Season 2019/20 • VCH Atrium Performances
[Cancelled] Gabsy & Brassisimo Brass Quintet
---
When
Sat / 21 Mar 20 / 3.00pm
Sun / 22 Mar 20 / 3.00pm
Where
Victoria Concert Hall Atrium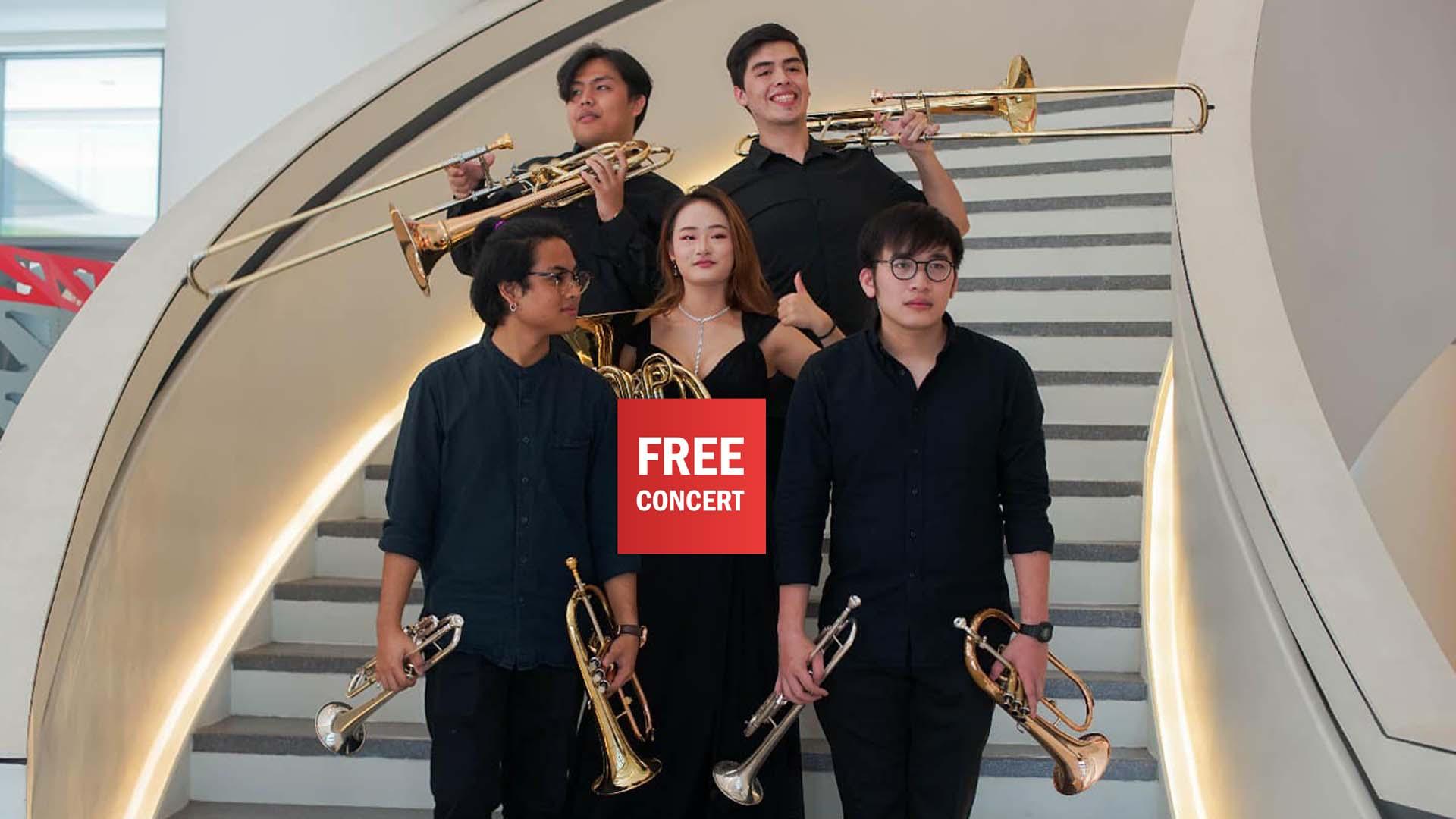 Synopsis
Update, 17 Feb: This performance has been cancelled.
Made up of students from the Yong Siew Toh Conservatory of Music, let the Gabsy Brass Quintet and Brassisimo Brass Quintet entertain you as they perform in the atrium of the Victoria Concert Hall.
Performance times
21 Mar: 3pm - 3:40pm
22 Mar: 3pm - 3:40pm
Gabsy Brass Quintet: Zhou Binghan (trumpet), Nuttakamon Supatranont (trumpet), Yung-Shan Hsieh (french horn), Oleksii Ubozhenko (trombone), and Tan Shun Zhong (tuba).
Brassisimo Brass Quintet: Jid-Anan Netthai (trumpet), Phan Thanh Binh (trumpet), Katherine Yang (french horn), Danilo Ignacio Contreras Osorio (trombone), and Pawin Pungbua (bass trombone).
No tickets or registration are required for this performance.
Featuring
Binghan Zhou, trumpet / Nuttakamon Supatranont, trumpet / Jid-Anan Netthai, trumpet / Thanh Binh Phan, trumpet / Yung-Shan Hsieh, french horn / Oleksii Ubozhenko, trombone / Danilo Ignacio Contreras Osorio, trombone / Pawin Pungbua, bass trombone / Shun Zhong Tan, tuba
Programme
The Girl with the Flaxen Hair trans. Gary Kulesha

Debussy

Polka from The Golden Age arr. San Filippo

Shostakovich

Spiritual Waltz

Enrique Crespo

Tom and Jerry arr. Mnozil Brass

Udo Jürgens

Amazing Grace arr. Luther Henderson/Canadian Brass Ensemble Series

Traditional

Disney Theme and Medley arr. Adrian Wagner

Sleepers Wake BWV 140 arr. Robert Madeson

J.S. Bach

Tango No. 1

Anthony DiLorenzo

Carmen Fantasia arr. Bill Holcombe

Bizet

Elsa's Procession to the Cathedral arr. John Glensek Mortimer

Wagner

Theme from Superman arr. Andrew Balent

John Williams
Recommended For You
Recommended For You
Recommended For You
Recommended For You
Recommended For You
Recommended For You