Singapore Symphony Children's Choir
Nurturing Choral Brilliance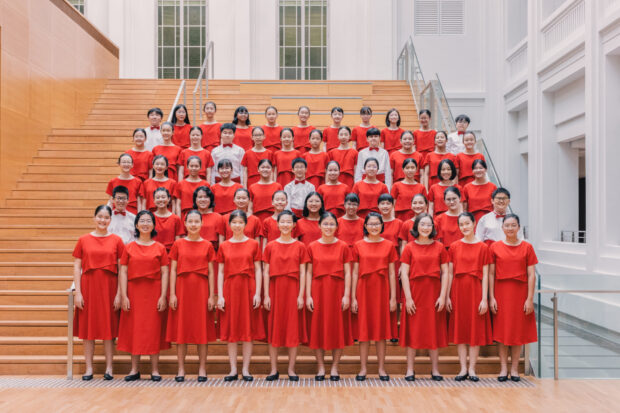 Nurturing Choral Brilliance
Established in 2006, the Singapore Symphony Children's Choir (SSCC) is an exciting and unique opportunity for young singers to work alongside the national orchestra and world-class conductors!
Based at the Victoria Concert Hall, Singapore's leading children's choir is dedicated to a holistic training approach that nurtures well-rounded artistic growth, cultivates discipline and confidence, and inspires a lifelong love for music and the arts. More than a choir, the SSCC is a life journey of learning, growth, lasting friendships, and music-making at its best.
SSCC has performed great choral masterpieces under the baton of distinguished conductors such as Lim Yau, Sofi Jeannin and François-Xavier Roth, and even shared the stage with critically acclaimed vocal group, The King's Singers. Most recently, the choir, together with the Singapore Symphony Youth Choir, premiered a treble arrangement of Faure's Requiem under the direction of world-renowned choral conductor Stephen Layton.
Outside of the concert hall, SSCC has sung at the Istana, presented at the 33rd ASEAN Summit and toured and performed at the Philharmonie de Paris in collaboration with Maîtrise de Radio France, as well as at Dewan Filharmonik Petronas in Kuala Lumpur with the Malaysian Philharmonic Youth Orchestra in concert. The choir actively continues to commission and perform works by Singaporean composers such as Darius Lim, Zechariah Goh, Kelly Tang, and Alicia De Silva.
The SSCC's commitment to musical excellence has enriched generations of singers and audiences, laying the foundation for choral patronage in the local music scene. Along with their fellow choruses, the SSCC is a key player in inspiring young musicians as well as shaping the future of choral music in Singapore and beyond.
Wong Lai Foon Choirmaster
Dale Huang rehearsal pianist
Nurturing Choral Brilliance
And I'll Sing Once More
On sale from the SSO pushcart on concert nights, and available on Apple Music and Amazon.
Order the CD here.
Frequently Asked Questions
Frequently Asked Questions
Frequently Asked Questions
Frequently Asked Questions
Frequently Asked Questions
Frequently Asked Questions
Follow Us On Social Media
See More
See More
See More
See More
See More
See More
Singapore Symphony Choruses