Singapore Symphony Chorus
Celebrating Choral Excellence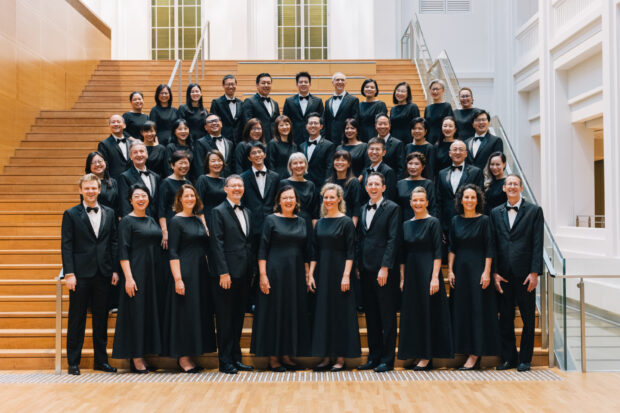 Celebrating Choral Excellence
For over four decades, the Singapore Symphony Chorus (SSC) has been bringing together passionate and talented choristers from all walks of life to celebrate the best of symphonic music-making, and to create music that moves, transcending language and culture.
More than just a choir, the SSC is a warm and vibrant community for lifelong social connections beyond the stage. Seasoned performers at the Victoria Concert Hall and the Esplanade, the chorus's committed group of singers come together week after week to hone their artistry and volunteer their time to deliver some of the most challenging choral classics to the highest standards.
Led by world-class conductors including Okko Kamu, Lan Shui, Lim Yau, Masaaki Suzuki and Sofi Jeannin, the chorus has amassed an impressive repertoire such as Tippett's A Child of Our Time, Arvo Pärt's Te Deum, Britten's War Requiem, and Bach's St John Passion, amongst others, since its founding in 1980.
With their dedication towards presenting outstanding performances, the SSC is the pinnacle of choral excellence in Singapore and a testament to the power of music and how it connects people across cultures and generations.
Eudenice Palaruan Choral Director
Shane Thio rehearsal pianist
Celebrating Choral Excellence
Frequently Asked Questions
Frequently Asked Questions
Frequently Asked Questions
Frequently Asked Questions
Frequently Asked Questions
Frequently Asked Questions
What kind of music does the choir sing?
In addition to our main repertoire of symphonic choral masterpieces, our choristers are also exposed to a wide diversity of world music and iconic choral pieces.
Where and when do we rehearse?
Rehearsals are held weekly at the Victoria Concert Hall, every Monday from 7.30pm to 10.15pm. Closer to performance dates, we run additional rehearsals on Thursday evenings and during concert week, consecutive weeknights.
How many projects am I expected to sing in?
Most of our choristers try to do all of them to maximise their experience with us. We recognise that our members lead busy lives, but we do ask all to commit fully to rehearsals and attending them. Professionalism and diligence will help us progress more effectively during rehearsals.
What performance opportunities will I get with the choir?
The choir regularly records and performs with the Singapore Symphony Orchestra, alongside the Singapore Symphony Youth and Children's Choirs, as well as in independent projects.
Who are we looking for?
We are on the lookout for singers in every section, Soprano, Alto, Tenor and Bass. If you can read music, have experience in choral singing, and would like to continue performing choral masterpieces at the highest level, we'd love to hear from you.
We do need prospective members to be literate in music theory and proficient sight-readers because of our busy and varied concert schedule. Our choristers may at times, also be required to remain standing throughout performances, which could last up to 60 minutes or more.
I'm interested, how can I get in touch?
We'd love to hear from you. Complete the online audition form, and we'll get in touch with arrangements.
Is there an audition?
Yes, although it is not an overly formal process. The Choral Director needs to run the process to determine your vocal range and place you in the appropriate section(s), as well as to ascertain your readiness to sing with us in concerts.
Don't Strauss it, we've got your Bach. Read on below for what to expect at the audition.
What can I expect in an audition?
Do prepare a song of any language (preferably classical, choral or any vocal work you are familiar with), not exceeding four minutes. You may choose to sing a cappella or bring a spare score if you require piano accompaniment. To determine your vocal range and music reading ability, we will also want to hear you sing some scales and vocal exercises, and will provide some sight-reading material.
May I join in for a rehearsal before I audition?
We welcome all prospective members to first come by for a sit-in, sing alongside the chorus for an evening rehearsal, before you make decision that the Singapore Symphony Chorus is a group suitable for you. Complete the online audition form, and we'll get in touch with arrangements.
When and where are auditions held?
Auditions are held throughout the season, on the third Monday of each month. These are typically conducted before a rehearsal session. Sit ins and auditions are held off 4 weeks before any scheduled concert week, to concentrate on concert pieces. Once we've received your application, the choral administration will get in touch with more information including venue and details of a sit-in and audition slot.
What happens after my audition?
We will write to you within a week after the audition, to let you know if you have successfully secured a placement in the choir. A membership fee applies upon the acceptance of the offer. You may refer to the SSC's Handbook for more info.
Follow Us On Social Media
See More
See More
See More
See More
See More
See More
Singapore Symphony Choruses