Singapore Symphony Youth Choir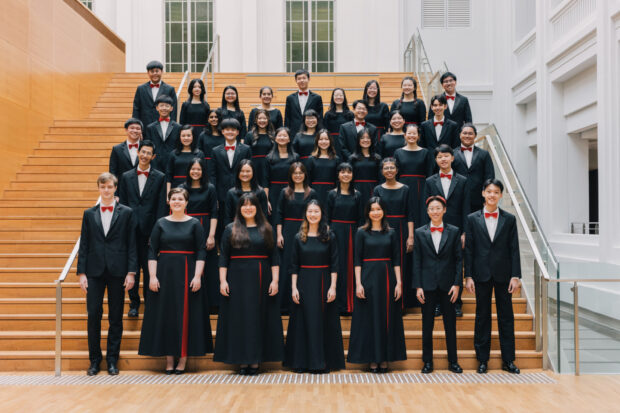 Energetic and full of dynamism, the Singapore Symphony Youth Choir (SSYC)'s choristers embody a zeal for artistic growth that inspires and pushes boundaries.
Comprised of a myriad of vibrant personalities aged between 17 and 28, the cool collective welcomes like-minded singers to share their journey of youthful passion for symphonic choral music-making, alongside the national orchestra! Performing regularly at the Victoria Concert Hall and the Esplanade, the SSYC is a group of dedicated singers who enjoy coming together to explore some of the most challenging and beloved choral works across styles and genres.
Since 2016, SSYC has had the privilege of performing under the baton of renowned conductors such as Lan Shui, Hans Graf, and Stephen Layton. Their repertoire boasts of musical highlights including Scriabin's Prometheus, Puccini's La Bohème, Tallis's Why Fumeth in Fight, Faure's Requiem and recordings of Borodin's Polovtsian Dances and Mahler's Symphony No. 2.
With the unique opportunity to learn from world renowned musicians and be part of a community that inspires passion, all while creating a professional sound, SSYC is a social journey to reimagine classical music and choral excellence.
Wong Lai Foon Choirmaster
Evelyn Handrisanto rehearsal pianist
Wong Lai Foon / Choirmaster
A founding conductor of the Children's Choir (SSCC) at its inception in 2006, Wong was appointed Choirmaster in 2015, and led in the formation of the Youth Choir (SSYC) in 2016.
Read More
Auditions
If you're a passionate young singer looking to be inspired and eager to explore symphony choral works, come join this cool collective!
Read More
Frequently Asked Questions
Frequently Asked Questions
Frequently Asked Questions
Frequently Asked Questions
Frequently Asked Questions
Frequently Asked Questions
What kind of music does the choir sing?
In addition to our main repertoire of symphonic choral master works, our choristers are also exposed to a wide variety of music and iconic choral pieces, including a cappella works from the Renaissance era to the 21st century.
When and where do we rehearse?
We generally rehearse at the Dance Studio, Victoria Concert Hall, every Monday from 7.30pm to 10.00pm. Closer to performance dates, we run additional rehearsals on Thursday evenings and during concert week, consecutive weeknights.
How many projects am I expected to sing in?
Most of our choristers try to do all of them, to maximise their experience with us! We recognise that our members lead busy lives, but we do ask all to commit fully to rehearsals and attending them. Professionalism and diligence will help us progress more effectively during rehearsals.
What performance opportunities will I get with the choir?
The choir regularly records and performs with the Singapore Symphony Orchestra, alongside the Singapore Symphony Chorus and Children's Choir, as well as in independent projects.
Who are we looking for?
We are on the lookout for singers in every section, Soprano, Alto, Tenor and Bass. If you're aged between 17 and 28, we'd love to hear from you. We also welcome young men between 15 and 16, whose voices have transitioned, to continue singing with us.
We do need prospective members be literate in music theory and proficient sight-readers. It would also be advantageous to have prior experience singing in a choir though not compulsory. Our choristers may at times, also be required to remain standing throughout performances, which could last up to 60 minutes or more.
I'm interested, how can I get in touch?
We'd love to hear from you. Complete the online audition form, and we'll get in touch with arrangements.
Is there an audition?
Yes, although it is not an overly formal process. The Choirmaster needs to run this process to determine your vocal range and place you in the appropriate section(s), as well as to ascertain your readiness to sing with us in concerts.
Don't Strauss it, we've got your Bach.
What can I expect at the audition?
Do prepare a song of any language (preferably classical, choral or from a musical), not exceeding four minutes. You may choose to sing a cappella or with a piano accompaniment. To determine your vocal range and music reading ability, we will also want to hear you sing some scales and vocal exercises, and will provide vocalise and sight-reading material.
Can I "try-out" with the choir before auditioning?
Sure, you may! We welcome all prospective members to join for a sit-in, sing alongside the choir for an evening session before auditioning with the choir. Complete the online audition form, and we'll get in touch with arrangements.
When and where are auditions held?
Ad-hoc auditions are held throughout the season typically at the end of a rehearsal session. We may hold off auditions nearer to performance dates, to concentrate on concert pieces. Once we have received your application, the choral administration will get in touch with more information including venue and details of a sit-in and audition slot.
What happens after my audition?
We will write to you within a week after the audition, to let you know if you have successfully secured a placement in the choir. An annual membership fee applies upon the acceptance of the offer. You may refer to the SSYC's handbook for more info.
Follow Us On Social Media
See More
See More
See More
See More
See More
See More