Season 2021/22
Composing for the Organ
---
When
Fri / 27 Aug 21 / 7.30pm
Where
Victoria Concert Hall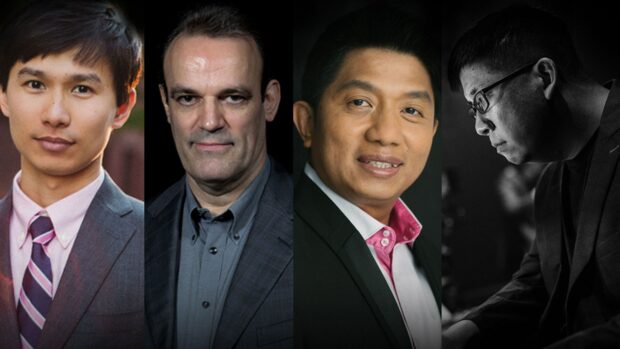 Sponsored by
Lee Foundation
Synopsis
Pre-Event Testing (PET) is not required for this talk.
Four composers in Singapore talk about writing music for the pipe organ, the instrument known for its diverse possibilities, from symphonic to jazz, ceremony to story-telling. Join them in this talk hosted by Singapore's doyen of the pipe organ, Margaret Chen.
Featuring
Margaret Chen, host / Robert Casteels, composer / Chen Zhangyi, composer / Chok Kerong, composer / Eudenice Palaruan, composer / Phoon Yu, organ
Programme
Opening by Margaret Chen

Chen Zhangyi

First look at the pipe organ: diversity of sounds and possibilities

Robert Casteels

Organists at work: organ in symphonic formation, chamber music and arrangements

Eudenice Palaruan

Imagined community: stories, influences and participation in pipe organ music

Chok Kerong & Chok Kerong

The Jazz perspective: music from the keyboards

Q&A
Duration: approximately 2 hours (with no break)
Programme Brochure
Tickets
Standard Tickets: $5
All prices before SISTIC booking fees: $1 for tickets $20 and below
Discounts and Promotions
Through all SISTIC channels
Full-Time students with valid student pass
NSF personnel with valid SAF 11B (Military IC)
Persons with Disabilities (PWD) with valid concession card
Concession tickets are non-transferable. Please note that random checks on concession tickets will be conducted at the point of entry
Patrons unable to present proof of eligibility are required to upgrade their concession tickets to full price tickets
Valid for Cat 3 only
Valid with minimum purchase of 15 tickets
For bookings, please contact our Customer Experience team at +65 6602 4245 or mail to: ticketing@sso.org.sg.
Through Internet only
Verification: enter password online
Recommended For You
Recommended For You
Recommended For You
Recommended For You
Recommended For You
Recommended For You