Esplanade Presents: Illuminations
---
When
Sat / 05 Nov 22 / 7.30pm
Where
Esplanade Concert Hall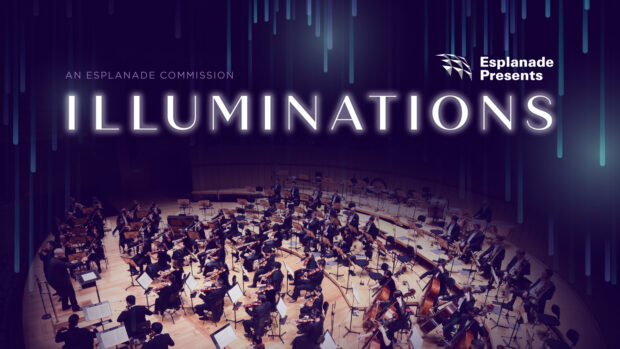 Synopsis
The Singapore Symphony Orchestra (SSO) and choruses come together for an evening of classical music to commemorate Esplanade's 20th anniversary.
Award-winning Singaporean conductor Lien Boon Hua leads the SSO for the first time at the Esplanade Concert Hall. This concert proudly showcases the leading lights of the new generation of Singaporean classical music talent. Prominent young pianist Abigail Sin and violinist Loh Jun Hong, both chamber music icons, perform Mendelssohn's Concerto for Violin, Piano and Orchestra, before the highlight of the evening—Illuminations—an original composition by prolific composer-pianist Jonathan Shin and composer-organist Phoon Yu. The SSO is joined by the Singapore Symphony Chorus, Youth Choir, and Children's Choir in this work specially commissioned for the occasion. It is inspired by the history and architecture of Esplanade, and how the centre literally and metaphorically shines a light on its artists, audiences and surroundings.
Featuring
Lien Boon Hua, conductor / Abigail Sin, piano / Loh Jun Hong, violin / Jonathan Shin, piano / Phoon Yu, organ / Singapore Symphony Orchestra / Singapore Symphony Chorus / Singapore Symphony Youth Choir / Singapore Symphony Children's Choir / Eudenice Palaruan, Choral Director / Wong Lai Foon, Choirmaster
Programme
Bacewicz

Overture for symphony orchestra (1943)

Mendelssohn

Concerto for Violin, Piano and Orchestra

- Intermission -
Jonathan Shin & Phoon Yu

Illuminations
Duration: approximately 1 hr 40 mins (with 20 mins intermission)
Tickets
Tickets are available via SISTIC from Fri, 19 Aug, 9am.
For all enquires, please contact SISTIC (Hotline: +65 6348 5555)
Important Notes:
This concert is NOT eligible for redemption of SSO Friends Season Passes or SSO Donor Passes.
Recommended For You
Recommended For You
Recommended For You
Recommended For You
Recommended For You
Recommended For You