Season 2019/20
[Cancelled] Miloš Karadaglić – Here Comes the Sun | VCHpresents
---
When
Fri / 15 May 20 / 7.30pm
Where
Victoria Concert Hall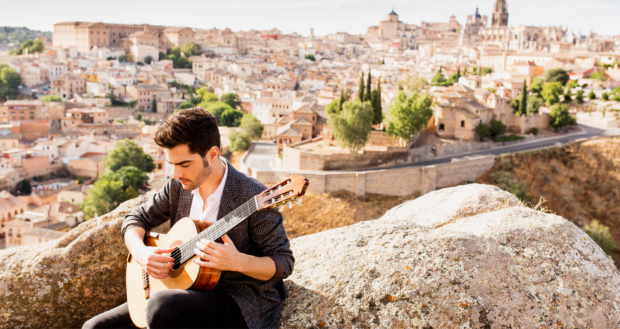 Synopsis
"The hottest guitarist in the world" is back! Last seen with the Singapore Symphony Orchestra in 2018, Miloš returns for a full concert dedicated to his guitar artistry. Dreamy poetry and sultry fire from the Mediterranean, alongside Baroque elegance and melancholy, are evocative companions to Miloš's signature tracks from his Beatles' album Blackbird. You asked for him, so here comes the sun.
Attend This Concert
His stunning good looks match his guitar artistry: spend an entire evening with the classical world's popular guitar star.
Featuring
Miloš Karadaglić, guitar / re: mix ensemble*
Programme
Suite in C minor, BWV 997

Granados

Andaluza and Oriental from 12 Danzas españolas

Albéniz

Asturias (Leyenda) from Suite Española No. 1, Op. 47

Manuel de Falla

Danza de la molinero from The Three-Cornered Hat

- Intermission -
John Lennon

Eleanor Rigby

John Lennon

Fool On The Hill

George Harrison

Here Comes The Sun

Tedesco

El sueño de la razón produce monstruos from 24 Caprichos de Goya, Op. 195

Duplessy

Cavalcade
Listen
Concert Extras
Autograph Session
CANCELLED
Tickets
Standard Tickets:
$50, $40, $30, $20
Admission Advice
Children must be age 7 and above to be admitted into the hall.
Children under 7 will not be admitted into the hall, even with a ticket.
Please bring along proof of child's age, such as a student concession pass, as random checks may be conducted at the venue.
Parents or guardians of children admitted are strongly encouraged to purchase aisle seats.
We reserve the right to ask parents to bring children out of the hall should they be disruptive during the performance.
No admission without a ticket.
You are strongly advised to be seated 15 minutes before the performance start time.
Latecomers will only be admitted at appropriate pauses during the show or during intermission, if any.
** Photography/ Video Recording Rules**
Photographs and videos will be taken at the event in which you may appear. Such photographs and videos may be displayed or published on SSG's website, social media platforms, publications and publicity materials. By attending the event, you consent to the use of these photographs and videos for the foregoing purposes.
Recommended For You
Recommended For You
Recommended For You
Recommended For You
Recommended For You
Recommended For You