Season 2023/24 • Orchestra Season
Temasek Foundation SSO National Day Concert 2023
The Singapore Sound
---
When
Sun / 13 Aug 23 / 4.00pm
Where
Esplanade Concert Hall
Tickets
$48, $38, $28, $15
Duration
approximately 2 hrs (with 20 mins intermission)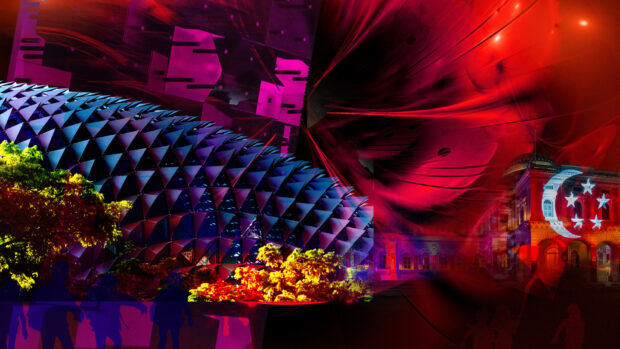 Synopsis
Now in its sixth year, the SSO National Day Concert is the Singapore Symphony's well-established annual showcase of Singaporean capability in every aspect of music. Join us to witness the world premieres of new music by Singaporean composers commissioned by the SSO, and hear us revive musical treasures from the repertory of Singapore's pioneer composers.
The concert will be streamed live on the Singapore Symphony YouTube Channel.
Special fundraising seats have been set aside to support Shared Services for Charities (SSC) and the Singapore Symphony Orchestra. These seats are available for a donation of $500. 50% of the funds raised will support SSC programmes to help charities improve their governance. The remaining 50% will support the national orchestra in enriching our diverse communities via music. Donations will qualify for a 2.5 times tax deduction for Singapore tax residents.
To adopt these seats, please visit the giving.sg campaign page or email contact@sscharities.com. Donors can opt to attend the concert or donate the tickets to a children's charity. For more information on the SSC, please visit www.sscharities.com.
Featuring
Ng Tianhui, conductor / Singapore Symphony Orchestra / Singapore Symphony Chorus / Singapore Symphony Youth Choir / Singapore Symphony Children's Choir / Eudenice Palaruan, Choral Director / Wong Lai Foon, Choirmaster / Members of the Singapore National Youth Orchestra / Lily Goh, Deaf Artist-Performer / Adora Sarah, Host
Programme
Mass Rapid City (SSO Commission)

Sulwyn Lok

Day In The Lion City

Kelly Tang
- Intermission -

Pasat Merdu (SSO Commission)

Felix Phang

Where That River Always Flows (SSO Commission)

Chua Jon Lin

Singaporean Folk Medley (SSO Commission)

Zechariah Goh

The Road Ahead (arr. Elliot Teo, Wong Lai Foon/SSO Commission)

Evan Low & Linying
All works are world premiere performances except The Road Ahead, which nonetheless features a new orchestral-choral arrangement.
Accessibility: Singapore Sign Language Interpretation will be available for portions of the concert.
Programme Brochure
Tickets
Standard Tickets: $48, $38, $28, $15
All prices before SISTIC booking fees:
$1 for tickets $20 and below, $3 for tickets $20.01 to $40, $4 for tickets above $40
Discounts and Promotions
Through Internet, Mobile, Hotline & Authorised Agents
Verification: Quote password upon purchase
Valid from 5 May 2023 onwards
Click here to find out more.
Through Internet, Mobile, Hotline & Authorised Agents
For the latest Donor's Discount code, please email director_development@sso.org.sg.
Valid from 5 May 2023 onwards
Click here to find out more.
Through Internet, Mobile, Hotline & Authorised Agents
Full-Time students with valid student pass
NSF personnel with valid SAF 11B (Military IC)
Persons with Disabilities (PWD) with valid concession card
Concession tickets are non-transferable. Please note that random checks on concession tickets will be conducted at the point of entry
Patrons unable to present proof of eligibility are required to upgrade their concession tickets to full price tickets
Valid from 12 May 2023 onwards
Valid for Cat 3-4 only
Valid with minimum purchase of 20 tickets
For student groups of 20 tickets or more, schools and corporate bookings, please contact our Customer Experience team at 6602 4245 or ticketing@sso.org.sg.
Through Internet, Mobile, Hotline & Authorised Agents
Verification: Quote password upon purchase
Valid from 5 May 2023 onwards
Admission Advice
Children must be age 5 and above to be admitted into the hall.
Children under 5 will not be admitted into the hall, even with a ticket.
Please bring along proof of child's age, such as a student concession pass, as random checks may be conducted at the venue.
We reserve the right to ask parents to bring children out of the hall should they be disruptive during the performance.
No admission without a ticket.
You are strongly advised to be seated 15 minutes before the performance start time.
Latecomers will only be admitted at appropriate pauses during the show or during intermission, if any.
Non-flash photography is allowed during bows and applause. No photography when artistes are performing.
Unauthorised video recordings are strictly not allowed.
Photographs and videos will be taken at the event in which you may appear. Such photographs and videos may be displayed or published on SSO's website, social media platforms, publications and publicity materials. By attending the event, you consent to the use of these photographs and videos for the foregoing purposes.
Recommended For You
Recommended For You
Recommended For You
Recommended For You
Recommended For You
Recommended For You