National Piano & Violin Competition 2023: Set Pieces
Participants in the Artist and Senior categories for both piano and violin are required to perform a set piece in the semi-finals. This is in addition to their full solo programme and concertos. The piece is always written by a local composer: for the 2023 edition, the composer is Terrence Wong.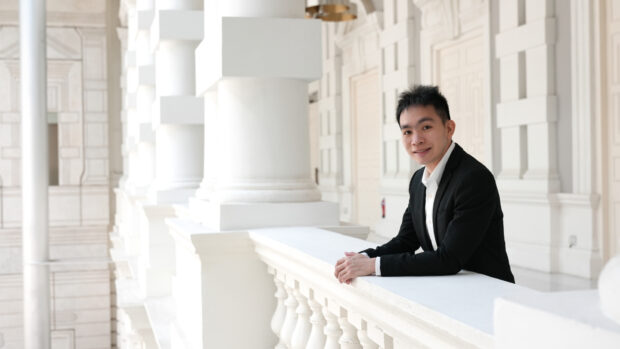 Composer: Terrence Wong
Terrence WONG Fei Yang (b. 1989, Singapore) graduated with a Master of Music in Composition in 2021 from the Royal College of Music (RCM) with the support of the Robert Anderson Award from the RCM as well as the National Arts Council Arts Scholarship (Postgraduate). Wong has studied composition with William Mival, Zechariah Goh Toh Chai and Kenneth Hesketh, as well as conducting with Lim Yau and Leonard Tan.
As a composer, Wong has been commissioned to compose music for notable Singaporean ensembles such as The Philharmonic Winds and the Singapore Symphony Orchestra (SSO). His compositions have been performed by international artists such as Joseph Alessi (Trombone) and Steven Mead (Euphonium), and in countries as far as Thailand, Hong Kong, South Korea, Lithuania and the United Kingdom. Most recently, Wong was commissioned to write the set pieces for the National Piano and Violin Competition 2023, a prestigious Singaporean biennial competition that sees hundreds of young musicians contend for the country's highest accolade for classical Western piano and violin performance.
Wong is equally passionate about music education, nurturing a lifelong passion for music in the hearts of youths. From 2012 to 2019, he has worked together with Singaporean conductor and educator Adrian Chiang as his Assistant Band Instructor in schools nationwide, including Catholic High School, CHIJ Secondary (Toa Payoh) and Eunoia Junior College. Wong continues to enjoy a strong collaborative relationship with Chiang as a composer and arranger, with the most notable project resulting in 14 new pieces for wind band created in the span of 4 months. Additionally, Wong has also been teaching composition and orchestration as a part-time lecturer at the School of Music, Nanyang Academy of Fine Arts.
Aside from honing his artistic excellence through music composition, Wong has played a key role in artistic programming and production in various institutions. In his capacity as the Composer-in-Residence at the Singapore Wind Symphony from 2015 to 2017, Wong spearheaded the Young Composers Challenge and Co|Lab programmes, and was instrumental in the creation of many new wind band works by participants such as Elliot Teo, Darren Sng and Edmund Song, who have since become notable composers in their own right. More recently, his full-time employment at the SSO has seen him collaborating with professional musicians and arts practitioners to engage the wider public through meaningful programmes that cultivate interest in and appreciation towards Western Classical music.
All in all, Wong believes that his musical journey encompasses a lifelong and fulfilling process of research, appreciation, creative thinking and performance, and aims to express the intricacies of life, love, loss and death through his work.
Part I of 'Life, Death and Everything In Between'
You stand beside a bed; one that is situated in Kandang Kerbau Hospital, or 'KK Hospital' as everyone calls it.
In your arms you cradle a newborn child; warm, pink, and so small that it fits in the safe grasp of both your hands. It is curled up into a tiny ball, with eyes tightly shut, wriggling about helplessly. You think to yourself – is this little creature even human?
You start to imagine what the future has in store for this new lifeform; a myriad of possible life paths await this little being. Will they, like you, take a keen interest in music or the arts? Will they turn towards nursing, tending to the ailments of the masses, or will they take up banking, spending late night after late night in the office staring at figures at a computer and communicating with clients halfway around the world? Will they contribute meaningfully to society, or end up in court for physically abusing others? Will they forge many strong friendships, or will they end up dying alone in a hospital bed?
You snap back to the present moment, cradling the tiny, precious little baby, who begins to cry.
Part II of 'Life, Death and Everything In Between'
You didn't think this moment would come so soon. Oh, everyone talks about the inevitability of the phenomenon, but still – it should have been tomorrow, next week, next month or next year. Just not now.
Time comes to a brief standstill. They say that 'life flashes before your eyes the moment before death'; you re-live your best and worst moments in life, compressed into the span of a an infinitesimally small slice of time.
But that too passes, and it is soon time to go. You find yourself in denial, and that emotion soon gives way to anger, raging against whatever higher powers that might exist, questioning why it has to be now, of all times. You bargain with them, asking for just one more hour, a minute, or even a second. You then grieve for everything that you will lose once this moment is over.
But you also remember – your life was not a bad one. There were many unpleasant experiences, but also plenty of cherished ones that you had shared with your loved ones. You remember giggling while Dad pushed you on a swing at a HDB playground; stuffing your face with Mom's curry chicken after a long day at school; arguing with Big Bro and Little Sis over who gets to play with the game console; working overnight on that group project with university friends (with plenty of half-drunk coffee cups on the table); eating food that was too spicy for you on that honeymoon in Bangkok, and so much more...
The final moment now arrives. You accept your fate graciously, passing into the unknown, just as countless others have done before you.
Part III of 'Life, Death and Everything In Between'
You are young, at your prime, and feel invincible. No goal is too lofty, no possibility is out of reach and no adversary is too tough to defeat. "The world is my oyster," you think, and set out to realise your dreams. You scoff in the face of naysayers who tell you that your goals are impossible to attain under ordinary circumstances. "I am no ordinary person," you think to yourself, reaching for the skies.
...and sail the skies you do, because you don't know how to take 'no' for an answer, making an impact on the world in your own, personal way.
Part IV of 'Life, Death and Everything In Between'
You are now past your prime. Your youthful days of adventure feel like a distant dream now – scaling that mountain peak with friends from university, obtaining your master's degree, achieving that elusive dream physique, nailing that hard-earned promotion – these and more have all come and gone in a blink of an eye. All you do now, today, tomorrow, every day, is to follow a mundane routine that seems to have no end in sight - the crowded commute to work, staring at a computer all day, endless meetings, leaving the office after the sun sets, replying to emails after you get home (when you really shouldn't), weekends at the shopping mall, a nice holiday outside of Singapore once or twice a year (in yet another city filled with shopping malls). It's been a long while since you've felt a genuine sense of achievement, and one day, you finally pause and ask yourself,
"Is this everything there is to life, in between birth and death?"
You ponder for a while, shrug, then crumple up that sheet of waste paper you've been holding onto for the past ten minutes, tossing it into the bin. Time to stare at the computer again.