SSOLOUNGE
Stradivari Quartet & SSO (Online)
---
When
Thu / 18 May 23 / 8.00pm
Where
SSOLOUNGE
Tickets
$30 for 12M Premium All-Access Pass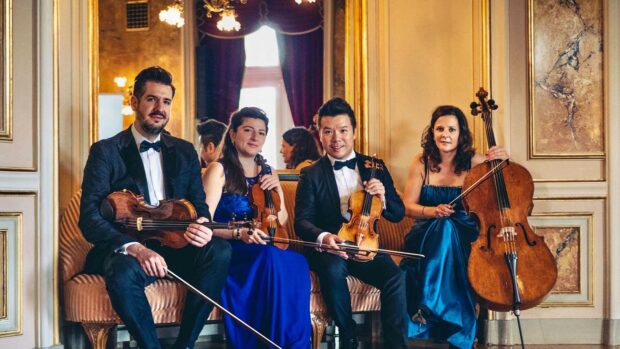 Synopsis
The Stradivari Quartet joins hands with musicians of the Singapore Symphony in two of the most famous works for chamber strings, Dvořák's American Quartet and Mendelssohn's Octet, topped off with the world premiere of Twin Cinema by prolific Singaporean composer Chen Zhangyi.
An exclusive SSOLOUNGE release filmed in Apr 2022.
Featuring
Xiaoming Wang, violin / Maya Kadosh, violin / Lech Antonio Uszynski, viola / Maja Weber, cello /
Zhang Si Jing, violin
/
Zhao Tian, violin
/
Guan Qi, viola
/
Guo Hao, cello
/
Ng Pei-Sian, cello
/
Guennadi Mouzyka, double bass
Programme
| | |
| --- | --- |
| Chen Zhangyi | Twin Cinema for String Nonet World Premiere |
| Dvořák | String Quartet in F major, Op. 96 "American Quartet" |
| Mendelssohn | String Octet in E-flat major, Op. 20 |
Duration: approximately 1 hour
Programme Brochure
Tickets
$30 for 12M Premium All-Access Pass $6 for Single Access Pass
Sale of passes will begin on 25 Oct, 10am. Please refer to https://lounge.sso.org.sg/ for more information.
Recommended For You
Recommended For You
Recommended For You
Recommended For You
Recommended For You
Recommended For You