Season 2022/23
Stroboscope - Light Beats
---
When
Sat / 14 Jan 23 / 7.00pm
Sat / 14 Jan 23 / 9.00pm
Where
Victoria Concert Hall
Tickets
Free, registration is required
Duration
Duration: approximately 1 hr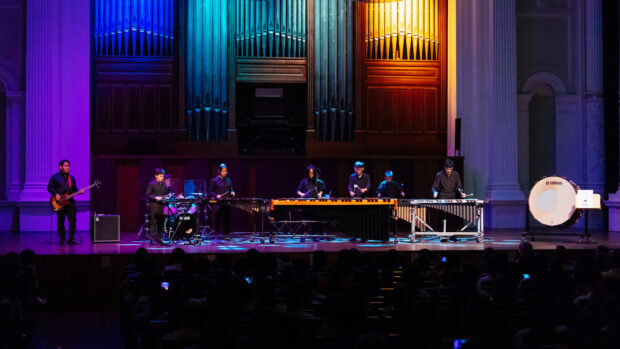 Synopsis
Road Closure Advisory: Due to Light To Night Festival, roads in the vicinity of Victoria Concert Hall will be closed from Saturday, 14 January, 4pm to Sunday, 15 January, 1am. VCH will not be accessible to vehicles. Carparks at Parliament House and National Gallery remain open. Please call 8698 0681 for details.
The exceptional young talents of the Singapore National Youth Orchestra spotlight the scintillating brilliance of percussion music today.
About the SNYO Percussion Ensemble
The Singapore National Youth Orchestra (SNYO) demonstrates the extraordinary capability of our inspired youth.
Formally established in 1980, the SNYO has welcomed generations of youths to the life-changing experience of playing orchestra music, performing locally as well as representing Singapore at prestigious concert halls and music festivals overseas. The SNYO Percussion Ensemble is made of percussionists drawn from the SNYO. Their annual Light to Night Festival performances since 2018 have garnered a following with their exciting and creative exploration of sound and spectacle.
Featuring
SNYO Percussion Ensemble
Programme
| | |
| --- | --- |
| Beacon of Light: V Hydra | Chad Heiny |
| Marimba Concerto Suite | Ney Rosauro |
| Shared Space | Ivan Trevino |
| Kaboom Percussion's Lights Out | Catherine Betts & Joshua Webster |
Duration: approximately 1 hr
Tickets
Free, registration is required.
Recommended For You
Recommended For You
Recommended For You
Recommended For You
Recommended For You
Recommended For You