Singapore National Youth Orchestra
The Singapore National Youth Orchestra demonstrates the extraordinary capability of our inspired youth.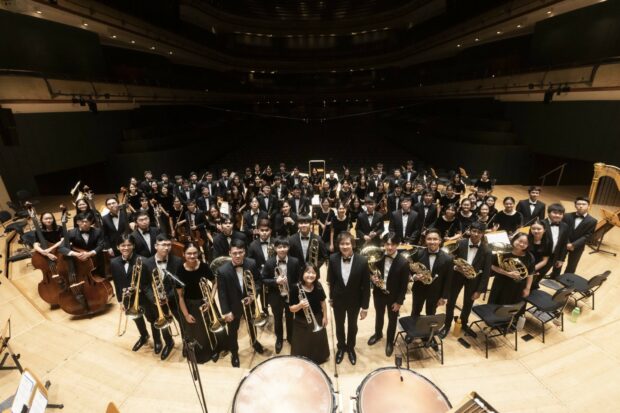 The SNYO remains a warm and inviting community for youth who love playing music together, where meaningful friendships are made for life.
Formally established in 1980, we have welcomed generations of youths to the life-changing experience of playing orchestra music, performing locally as well as representing Singapore at prestigious concert halls and music festivals overseas. Over the years, the SNYO has performed in concert venues and music festivals across Australia, Austria, Germany, Italy, Japan, Malaysia and the United Kingdom. Today we are 180 youths aged 10 to 21, from more than 60 schools across Singapore. The SNYO family consists of a main orchestra and a junior orchestra, where they are guided by professional musicians in rehearsals, sectionals and masterclasses.
The SNYO remains a warm and inviting community for youth who love playing music together, where meaningful friendships are made for life. Our programme is accessible to talented youth musicians with selected individual lesson subsidy and travel grants for tours as well as participation in exchange programmes.
Since 2018, Joshua Tan assumed the position of Principal Conductor for the SNYO and Peter Stark was appointed as its first-ever Principal Guest Conductor.
We are recognised by the Ministry of Education as a National Project of Excellence, and part of the Singapore Symphony Group — the arts charity that also manages the Singapore Symphony Orchestra.
Vision
To inspire a lifelong love for music and a dedication to exceptional orchestral performance
Mission
Through the playing of orchestral classical music, we nurture future generations of musicians and build a vibrant music community for Singapore
Our Conductors
Our Conductors
Our Conductors
Our Conductors
Our Conductors
Our Conductors
Joshua Tan
Principal Conductor
A graduate of The Juilliard School and the Eastman School of Music, Joshua Tan was Second Prize winner of the Dimitri Mitropoulos International Competition and an awardee of numerous scholarships and awards, including the Young Artist Award – Singapore, Bruno Walter Memorial Foundation Award, NAC-Shell Scholarship, and the SSO/MOE Scholarship. He was the first conductor to be presented the Charles Schiff prize from The Juilliard School. His performances of Bernstein's Mass and the opera Don Pasquale were selected as the best classical concerts of the year 2018 and 2019 by The Straits Times.
Joshua has conducted orchestras all around the world. He has studied with various eminent conductors — James DePreist, Charles Dutoit, David Zinman and Kurt Masur — and worked with many others, such as Michael Tilson Thomas, Ingo Metzmacher and George Manahan.
A versatile conductor, Joshua is at home with symphonic, operatic and ballet works. His repertoire for opera includes La Traviata, Rigoletto, Der Fliegende Holländer, Lohengrin, Carmen, Don Giovanni, Madama Butterfly, Così fan tutte, and Turandot. He is equally adept with music for ballet, film and multimedia, having worked for Disney's Fantasia and Pixar, BBC's Blue Planet series, West Side Story, Jurassic Park and more.
Presently Principal Conductor of the Singapore National Youth Orchestra and Director of the Asia Virtuosi, he has served successful stints as Resident Conductor of the National Center for the Performing Arts (China) Orchestra, Principal Conductor of the Guiyang Symphony Orchestra and Associate Conductor of the Singapore Symphony Orchestra. Season 21/22 sees return engagements with the Hong Kong Philharmonic and Singapore Dance Theatre as well as debuts with the Gunma Symphony and Melbourne Symphony, and a new opera premiere in Hong Kong.
Seow Yibin
Associate Conductor
Seow Yibin is a Singaporean oboist and conductor. Since January 2022, he has been appointed as the Associate Conductor of Singapore National Youth Orchestra. He is also Associate Conductor of the Orchestra of the Music Makers and conducts the concert bands of National Junior College (Junior High), Tampines Junior College, Chong Boon Secondary School and Raffles Girls' School (Secondary). Whilst based in Europe, he was the Conductor of the Junior Royal Northern College of Music (RNCM), UK, Principal Guest Conductor of North Cheshire Wind Orchestra, UK and Conductor of the Musikgesellschaft Harmonie Büsserach, Switzerland.
Yibin has conducted at the Southbank Centre's The Rest is Noise festival, at BBC Radio 3 live broadcast and guest conducted bands, including the Blasorchester Südwind, Germany, Zürcher Jugendblasorchester u25, Switzerland and the Sociedade Filarmonica Palmelense "Loureiros", Portugal. He also worked extensively with British Orchestras such as Chester Philharmonic Orchestra, Stockport Symphony Orchestra and the Manchester Camerata.
In Singapore, he has conducted prominent musical groups such as the The Philharmonic Winds, Orchestra Collective and the Windstars Ensemble. As a keen educator, he also presented an eight-week radio series, The Concert Band Programme, which was broadcast on Symphony 924, led workshops at the Singapore Woodwind Festival and given conducting masterclasses at School of the Arts and National Junior College. He currently authors articles for The Band Post.
Yibin began oboe studies at the Yong Siew Toh Conservatory of Music, Singapore before furthering them with Emanuel Abbühl at Musik-Akademie Basel, Switzerland, where he also pursued Wind Band Conducting studies with Felix Hauswirth. He subsequently joined the RNCM, studying Orchestral Conducting under Clark Rundell and Mark Heron. He has also participated in conducting masterclasses with Juanjo Mena, Jac van Steen, Tim Reynish, Stanislaw Skrowaczewski and Manuel Nawri.
Peter Stark
Principal Guest Conductor
Peter Stark's performances as a conductor are exhilarating, imaginative and inspiring. At the heart of all his work lies a passion and commitment to the study and practice of music to profit humanity. Peter is Professor of Conducting at London's Royal College of Music and has taught over five hundred private students. His acclaimed courses in conducting have taken him across the world and his reputation as a teacher is renowned. In the last two years he has given masterclasses in conducting at the China Conservatory Beijing, the Shanghai Conservatory, and the State Conservatory in St Petersburg.
Whilst having performed with a number of the world's leading ensembles such as the London Symphony Orchestra, The Hallé, Bournemouth Symphony Orchestra, English Chamber Orchestra, Orchestra of the Age of Enlightenment and the Malaysian Philharmonic Orchestra, Peter fosters a hunger to work with any orchestra that plays with spirit and enthusiasm.
Peter's growing media profile includes his appointment as series consultant to the popular BBC television series 'Maestro' and regular screen appearances as a mentor. For this role, Peter was responsible for the training of eight celebrity \ students', as orchestral conductors. Peter has since made live 'Maestro' webcam commentaries for the BBC Proms and a subsequent TV series.
In addition to Peter's work at the Royal College of Music in London, his career has focussed on the training of conductors and youth orchestras, He is Rehearsal Director of the European Union Youth Orchestra, has been Principal Conductor of the Hertfordshire County Youth Orchestra since 1994, and in 2017 was appointed Principal Conductor of the Arabian Youth Orchestra. His work with foreign youth orchestras has included Norway's Young Philharmonic Orchestra the New South Wales Public Schools' Symphony Orchestra and the Toyota City Junior Orchestra in Japan. Peter also holds the post of Principal Conductor of the Cambridge University Chamber Orchestra. Between 1985 and 2010 Peter was Conductor-in-Residence to the National Youth Orchestra of Great Britain.
Peter is honoured to have had the privilege of assisting many of the world's finest conductors including Pierre Boulez, Sir Colin Davis, Lord Menuhin, Sir Roger Norrington and Klaus Tennstedt. His numerous awards include the Tagore Gold Medal from the Royal College of Music and Honorary Doctor of Music from the University of the West of England in recognition of his outstanding contribution to music.
The 2017/18 season sees a return visit to conduct the Malta Philharmonic Orchestra and trips to many European countries for European Union Youth Orchestra auditions and residencies, and teaching and performing engagements in China, South Korea and Japan. Peter is also researching and drafting the first of two planned books based on his experiences as a conductor and educationalist.
Bartók: Dance Suite / Joshua Tan • Singapore National Youth Orchestra
Singapore National Youth Orchestra Auditions
The Singapore National Youth Orchestra invites young musicians (aged 10 to 18) to join us!
Positions are available in all sections: strings, woodwinds, brass and percussion. Talented young pianists who are interested in mastering a second instrument are also welcome to audition.
Audition guidelines and requirements are stated in the application form, and you may also read the audition FAQ for more information.
Applications for the audition are open all year round. The deadline to be considered for an audition is one month before the audition date. Applications received after the deadline will be retained for consideration at the next audition. To apply, please refer to this link.
If you have any questions, feel free to contact us at snyo@sso.org.sg.
More on SNYO
More on SNYO
More on SNYO
More on SNYO
More on SNYO
More on SNYO
Over the years, the SNYO performed at various international music festivals and concerts:
2018, December: Asia-Pacific Youth Symphony Orchestra Festival, Hong Kong
2018, December: Xinghai Concert Hall, Guangzhou, China
2016, December: Dewan Filharmonik Petronas, Kuala Lumpur, Malaysia
2012, August: Young Euro Classic, Berlin, Germany
2011, August: Aberdeen International Youth Festival, Scotland
2008, July: Florence International Music Festival, Italy
Click here to view some of our past tours and overseas exchanges.
1980
The "Singapore Youth Orchestra" is established under the Ministry of Education with the appointment of its first Music Director Ms Vivien Goh.
1986
The "Singapore Youth Training Orchestra" was formed as a junior orchestra to the main orchestra.
1990
From 1990-2002, Mr Lim Yau helmed the orchestra as Music Director.
2001
The "Singapore Youth Orchestra" is renamed as the "Singapore National Youth Orchestra" (SNYO).
SNYO Conductors from 2002
2002-2004: Robert Casteels (Music Director/ Resident Conductor)
2005-2010: Lim Soon Lee (Music Director)
2011-2012: Darrell Ang (Music Director)
2011-2014: Tan Wee Hsin (Resident Conductor)
2014-2018: Leonard Tan (Principal Conductor)
2015
The SNYO is transferred from the Ministry of Education to Ministry of Culture, Community and Youth.
The Singapore Symphony Orchestra sets up the SNYO Integration Office to manage the consultation and operational processes for the handover.
2016
The Singapore Symphony Orchestra takes full operational and management control of the SNYO.
2018
The SNYO appoints Joshua Tan as its Principal Conductor and Peter Stark as its first-ever Principal Guest Conductor.
Follow Us On Social Media