Evgueni Brokmiller
Associate Principal Flute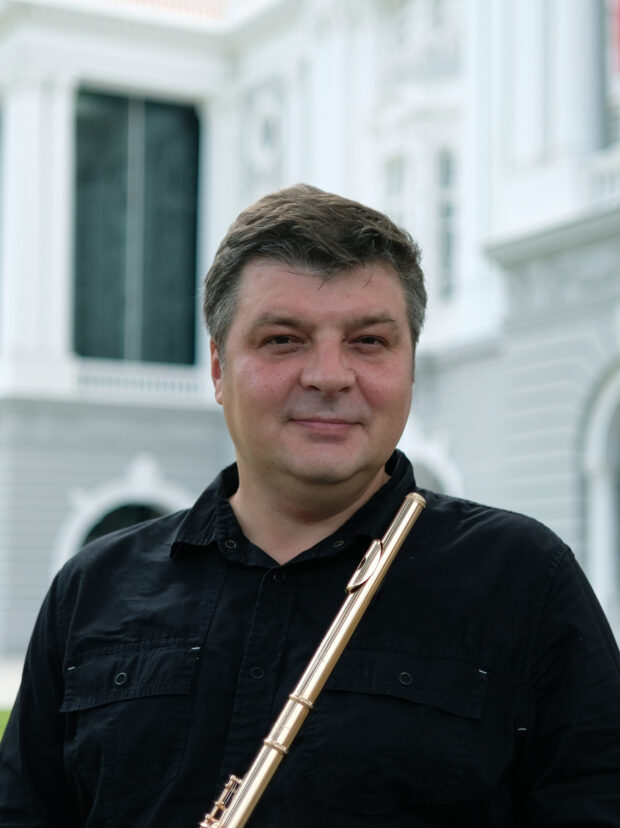 Russian flutist Evgueni Brokmiller was a student of the legendary Professor of the Moscow State Conservatory, Yuri Dolzhikov.
Evgueni got his first music lessons from his parents. In 1977, he was accepted by the prestigious Central Music School of Moscow Conservatory, where besides the flute, he also studied piano and composition.
Evgueni Brokmiller's career was launched at the age of seventeen when he won first prize in the all-Soviet Union Woodwind Competition in 1987. A scholarship from the International Charity Foundation "New Names" followed in 1991. In 1992, he won the International flute competition in Scheveningen (The Netherlands).
Despite his youth, Evgueni gave concerts as a soloist at many renowned concert halls such as the Grand Hall of the Moscow State Conservatory, St. Petersburg Philharmonic Hall and the "Unesco Hall" in Paris. His concerts were broadcast for radio and television, and he has recorded on the Melodia and Forlane labels.
As a soloist, he has played with many orchestras including the State Cinematography Symphony Orchestra (USSR), Noordhollands Philharmonic Orchestra, Moscow Chamber Orchestra, Chamber Ensemble with Yuri Bashment, and the Singapore Symphony Orchestra.
In 1991 to 1993, Evgueni was the Principal Flutist for the State Symphony Orchestra in Russia. He was also the Guest Principal Flutist for the Moscow Radio Orchestra, Orchestra of the Bolshoi Theatre and the London Philharmonic Orchestra. As a chamber musician, Evgueni Brokmiller has collaborated with prominent musicians including Sviatoslav Richter, Yuri Bashmet and Yo-Yo Ma.
Evgueni studied conducting at the Moscow State Conservatory with Professor Leonid Nikolaev and at the St. Petersburg Conservatory with Professor Alexander Titov.
Evgueni Brokmiller has been the Associate Principal Flutist of the Singapore Symphony Orchestra since 1993 and is active in Singapore as a soloist, orchestral musician, chamber musician and teacher.