Guan Qi
Associate Principal Viola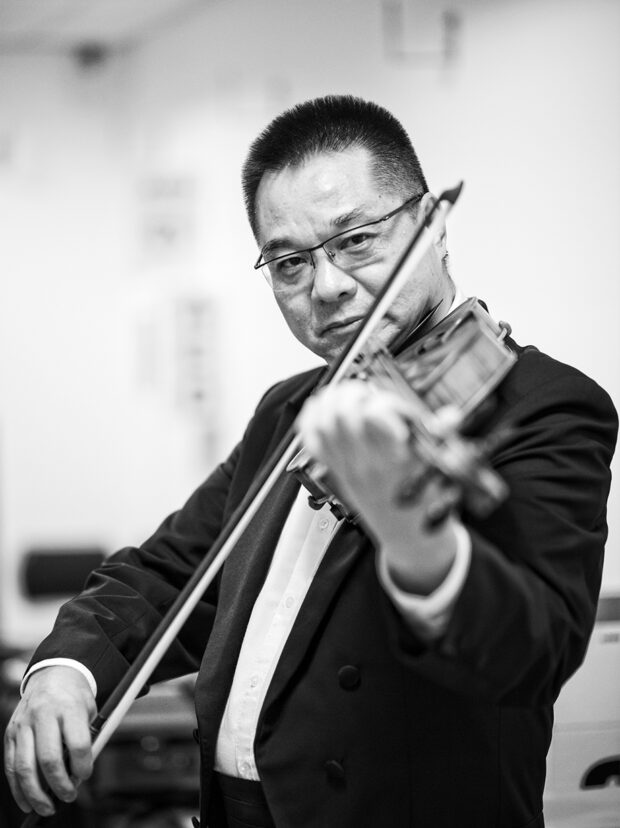 Guan Qi began learning composition and the violin from his father at age 9. In 1978, he enrolled in the Yunnan Arts Academy. While at the Academy, Guan Qi won the second prize in the regional qualifiers of the China International Violin Competition. Upon graduation in 1983, he continued teaching violin in the Academy while serving concurrently as the Academy's orchestra conductor.
In 1985, Guan Qi entered the Central Conservatory of Music in Beijing and started learning the viola. He was accepted by the eminent Professor Lin Yao Ji as his only viola student. Guan Qi's other principal teachers included Si Tu Hua Cheng, Sui Ke Qiang, and Wang Zheng Shan. He also participated in masterclasses by Csaba Erdélyi, Bruno Pasquier and Pinchas Zukerman. Guan Qi joined the China Youth Symphony Orchestra in 1986 and was appointed Principal Violist after the youth orchestra's tour to 13 European countries.
Guan Qi joined the Singapore Symphony Orchestra in 1988 before being appointed Principal Violist of the Macau Chamber Orchestra in 1995. He returned to Singapore Symphony Orchestra in 1997 as Associate Principal Violist. Guan Qi has been invited to participate in the world's top Chinese Musicians Festival Orchestra. He has also been guest Principal Violist with the Sydney Opera House Orchestra, Asia Pacific Festival Symphony Orchestra, Shenzhen Symphony Orchestra, Guangzhou Symphony Orchestra, Xiamen Symphony Orchestra and Yunnan "Nie Er"Symphony Orchestra.
Guan Qi has also appeared extensively as a chamber musician throughout the world. In the 1992 Pacific Music Festival, he was featured with the principal musicians from the Vienna Philharmonic in a performance. As a founding member of both the "Jade" Quartet and "Cheng" Quartet, Guan Qi has given numerous Singapore premieres of works, which include the first three string quartets by Béla Bartók.
As a soloist, Guan Qi has performed with the Singapore Symphony Orchestra, the Guangzhou Symphony Orchestra and the Macao Chamber Orchestra in works by Mozart, Handel and Bach, appearing with conductors such as Matthias Bamert and Michael Charry.
Guan Qi has been invited to conduct masterclasses in Beijing, Shanghai, Macao, Guangzhou, Kunming and Singapore. He has also been teaching at the Yong Siew Toh Conservatory of Music since 2014.