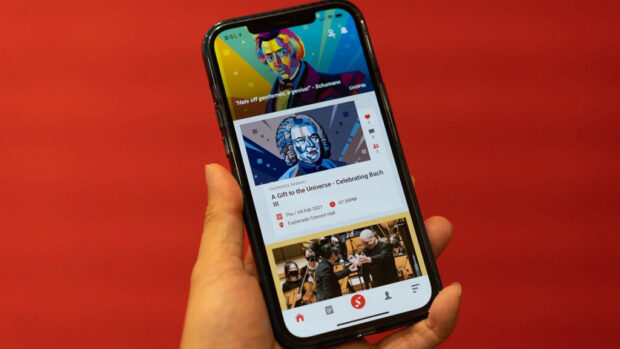 While the SSO was one of the first orchestras to launch a mobile app in 2012, the rapid change in the technology use of our audiences and patrons gave us an opportunity to introduce a completely redesigned app so that we could re-imagine what was possible in the digital space to draw Singapore together through memorable musical experiences.
We wanted to have the app play a role in building community and reinforce our live and digital concerts as common spaces for people across Singapore and the world to come together and enjoy the SSO's music.
COVID-19 and its acceleration of the orchestra's move to presenting online concerts also gave us the chance to study the behaviour and preferences of our audiences online. We had made it a point to make digital concerts more communal by providing and encouraging lively shared commentary in the chat rooms. We heard from our audiences who were new to the pieces that, unlike in a silent and attentive concert hall, the commentary helped them understand what they were listening to as the music unfolded.
As we gradually welcome audiences back into concert halls since November 2020, the orchestra has been working hard to enhance the concert-going experience for its valued patrons in the new normal.
As part of its ongoing digital transformation and innovation, the Singapore Symphony is excited to announce that the new Singapore Symphony Mobile App, now available for a free download from the Apple App and Google Play stores.
First, as an individual concertgoer, you can now easily browse your personal concert calendar, build your personal profile to include your favourite music and be inspired daily by a different composer quote on the in-app News Feed. Concert-goers can build a concert attendance profile by checking-in at our live concerts – simply by scanning a QR code at the venue using the app. To make each person's classical music journey more enjoyable, we added in some gamification where patrons can earn badges and achievements as they progress through their concert-going journey with their national orchestra.
Second, to build community through memorable musical experiences, concert-goers can now view post-concert snapshots and see the reactions of fellow attendees. For those who enjoy participating in the social media space, there are also functions to interact with poll results, and post photos and comments within the app, and share these onto other social media platforms.
As we continue studying what our audiences want, we will build more functions into the app in the future. Thanks to our donors' continued financial support, the orchestra has been able to keep innovating ways to spread the love for music and to deepen its connection to audiences live and online.
We invite you to download the Singapore Symphony App today and give it a try!
Latest News
Latest News
Latest News
Latest News
Latest News
Latest News