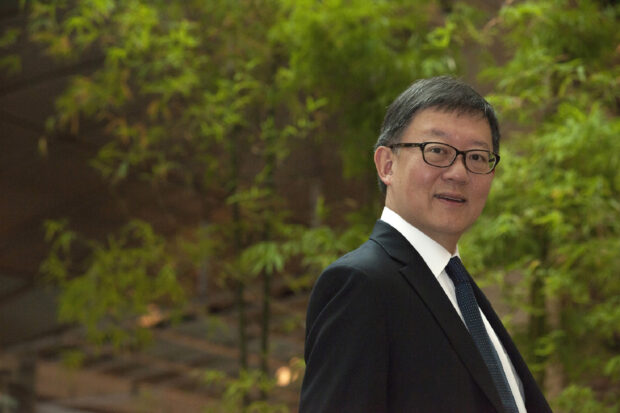 Dear Friends,
Last Saturday evening, 32 SSO musicians stepped on stage and performed in an empty Victoria Concert Hall. Conducted by Darrell Ang, SSO's online concert in the 673-seater hall was streamed live and heard by thousands of people in Singapore and overseas in places as far away as Eastbourne in England.
All around the world, orchestras and concert halls are going silent. We have to put the health and safety issues foremost during the coronavirus crisis, and it isn't feasible within the constraints of social-distancing rules to put on live concerts meaningfully. Yes, we can all still turn to recordings at home, and there is a rich trove of digital material to explore now that many of the world's great ensembles have opened access to their archives; but the shared emotional thrill of watching a live performance together in the concert hall will have to wait till the crisis is over. All of us hope that this will not be too long a wait.
We have been very heartened by feedback on our YouTube channel, Facebook and Instagram feeds. To all of you who were shouting Bravo and applauding in your living rooms, we hear you! Many of you have sent us your good wishes, for which we're very grateful. One of you even enlarged our mission for us: "to bring light in such a stressful and depressing situation". Thank you for the reminder that great music can be much more than just entertainment: it is also a source of inspiration and emotional strength.
We are determined to keep on making music for you. Although the seats in the concert halls will be empty, we will continue to perform concerts and livestream them as much as possible. We have already added content on our YouTube channel. We have also continued to plan for the next post-COVID SSO season and have lined up some really amazing concerts. The SSO's musicians have proposed a list of projects that could be done while normal programming is suspended. I was very moved to read their letter in which they set out some really great ideas, but also reaffirmed their commitment to the SSO, to music in Singapore, and to one other. We'll all work together to pull through this difficult time.
The COVID-19 pandemic has impacted the way we bring music to you; it will also impact us financially. The absence of our annual Gala Benefit Dinner in 2020, ticket revenues from the cancelled concerts, and sponsorships from corporations hit by the economic impact of the pandemic, will be financially painful for the Singapore Symphony Group.
I am very grateful to all the ticket holders who have chosen to forego their refunds and make a donation instead. I appreciate the Benefit donors who have said that they would make an outright donation even in the absence of a party. We recognise that many are going through a difficult time, and we are deeply humbled by your continued faith in the SSO despite your own business and personal challenges.
We still have a gap to fill, however, and to those who are able, please consider making a gift of any size to help us through this year.
To the volunteers in the SSO Ladies' League: I regret we've had to postpone the Benefit Dinner into the next year. This fund-raiser is always a highlight of my year. I also want to take this opportunity to thank all the volunteers and students in the SSO's choral groups, and in the Singapore National Youth Orchestra. I'm sorry that some really important events have had to be deferred, and that your enthusiasm for collective music-making will lie dormant for the time being. We promise to do all we can to bring these ensembles back on line as quickly as circumstances permit.
To the staff and musicians of the SSG: You have all been wonderful – passionate about what you do, dedicated to teamwork, unwavering in your quest to make music at the highest possible level. In the past decade, I have often said that our goal is to build, for Singapore, one of the world's great orchestras. In recent months, it has become clear to me that our orchestra already has the ingredients necessary to deliver that goal. We also have a great Chief Conductor, Hans Graf, waiting to start his tenure. The Singapore Symphony Group is united in spirit, passionately committed to excellence, and resolute in our collective goal to bring great music to as many people in Singapore as possible.
We will not be silent, and we will come out of this crisis stronger.
Yours,

Mr Goh Yew Lin
Chairman
Singapore Symphony Group
LIST OF AFFECTED CONCERTS
March
21/22 March: Concerts for Children: Journey Around the World – Cancelled
27/28 March: Faure: Cantique et Requiem – Cancelled
28 March: Spirit of Serenity – Cancelled
April
3 April: SSO Pops: To Broadway, with Love – Cancelled
4 April: Forty-ssimo: The Welcome Celebration! – Postponed to 27 Sep 2020
11 April: VCHpresents Baroque Festival: Genius of Rome – Cancelled
12 April: VCHpresents Baroque Festival: Orpheus of Rome – Cancelled
17 April: VCHpresents The Stradivari Quartet Plays Mahler – Cancelled
19 April: VCHpresents The Stradivari Quartet Plays Beethoven – Cancelled
23 April: Cello Escapades – Cancelled
May
1 May: Nadia Sirota – Nico Muhly Viola Concerto – Cancelled
8 May: Penderecki Conducts Penderecki – Cancelled
10 May: SSO Mother's Day Concert – Cancelled
15 May: VCHpresents Miloš Karadaglić - Here Comes the Sun – Cancelled
20 & 21 May: Seong-Jin Cho – Cancelled
23 & 24 May: SSO Babies' Proms – Cancelled
30 May: Between the Lines – Cancelled
29 May: VCHpresents The Pavel Haas Quartet – the Great Fugue – Cancelled
September
27 September: Forty-ssimo: Ode to Home – Postponed to 20 Mar 2021
Read more about the latest concert updates, news and FAQs here
To support us, visit www.sso.org.sg/donate
Latest News
Latest News
Latest News
Latest News
Latest News
Latest News