Thank you for staying in touch with us.
The SSO is part of a family of performance groups — including three choirs and a youth orchestra with members aged nine and up. We also run competitions and festivals. All these make up the Singapore Symphony Group (SSG).
As the year-end season of giving approaches, we hope you will choose to make a gift to the SSO.
Here are some reasons to choose the SSO. Your donation will:
• Help us continue to bring free concerts to schools and community spaces throughout Singapore
• Enable us to give free tickets to beneficiaries from charities such as Daughters of Tomorrow and Child@St11
So please help us continue sharing the gift of music with everyone. Donate to www.giving.sg/sso.
BETTER THAN THERAPY
Less than 2% of donors in Singapore choose give to the arts, because it is sometimes seen as a 'higher-order need'. And yet, the arts has a special way of making life liveable.
Music brings joy. Music brings peace. Music soothes. Music stimulates. Music helps us grieve and celebrate. Our Co-Concertmaster Lynnette Seah said it best in a recent interview, "Music works better than therapy!"
There are many reasons to give to the SSO and some of our donors have happily shared theirs: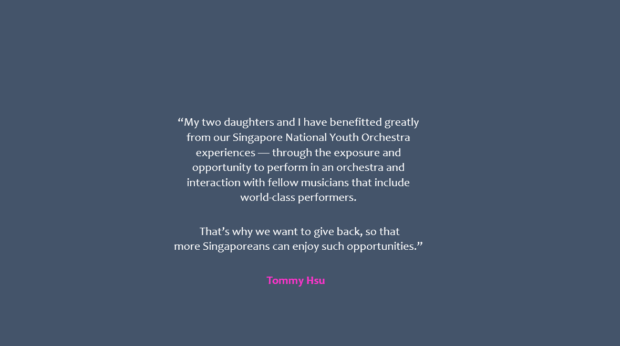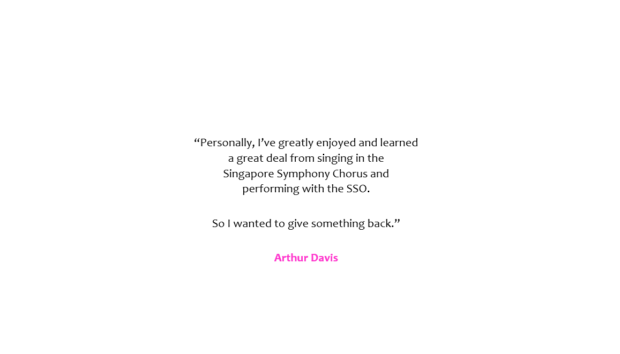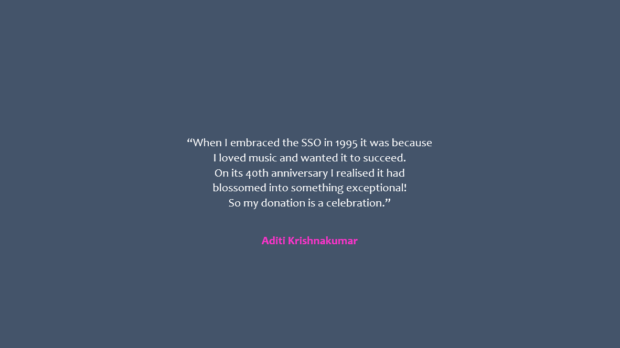 You Can Support the SSO
High-quality performances, tours, and recordings — these form the lifeblood and are what it takes to build up the abilities and reputation of an orchestra. Your donation will:
• Enable us to continue to bring world-class performers to Singapore
• Enhance our efforts to build one of Asia's best orchestras for Singapore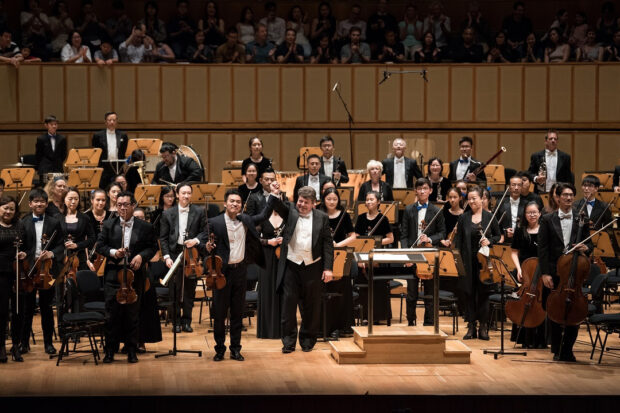 Did you know?
• We keep ticket prices affordable, and provide discounted tickets for students and seniors. This means ticket revenue makes up less than 10% of our total operating budget.
• The SSO is an arts charity that depends heavily on donations. We can tap on matching grants from the Tote Board and the Cultural Matching Fund, but only if you decide to give.
• When you give to the SSO, you will receive tax deductions of 250% on your donation starting from $50. Make your donation by 31 Dec 2019 to receive tax deduction for this year.
Visit www.giving.sg/sso to make a donation today. For more information, please email nikki@sso.org.sg
Every gift makes a difference.
Thank you for your gift.
Latest News
Latest News
Latest News
Latest News
Latest News
Latest News