First-Timers
Don't worry if you don't know anything about classical music. Come with an open mind and allow the conductor and musicians to take you on a journey.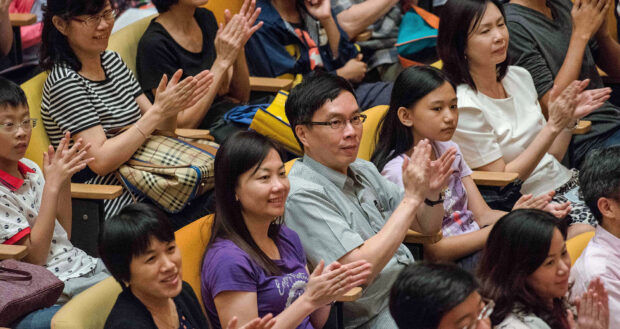 Going to an SSO concert can be a hugely enriching and rewarding experience – whether you're with family, friends or loved ones, or simply by yourself in search of some quality personal time. Don't worry if you don't know anything about classical music. Come with an open mind and allow the conductor and musicians to take you on a journey.
Everything You Need To Know
Everything You Need To Know
Everything You Need To Know
Everything You Need To Know
Everything You Need To Know
Everything You Need To Know
Come with an open mind. A concert is not just about experiencing music live, it's also about the experience of sitting in a grand concert hall, being part of a unique community, making and meeting friends - and even meeting face-to-face with some of the greatest artistes in the world.
If you still feel unsure, we can tell you that even for experienced concert-goers, a whole lifetime is not enough to experience everything music can offer. That's why we keep going. The first step is the most important.
Do your own research!
By all means, do your own research to get an idea of what to expect before you come. Find a YouTube video or audio track of the music being played and hear it before attending. (TIP: it's good to know how the music ends).
Programme Booklet
A programme booklet or flyer, with notes on the music and performers, is available for most concerts. You can pick up a copy at the foyer, before entering the concert hall. Ask the ushers if you can't find them.
A digital programme booklet is usually published online a day or two before the concert. This can be found on our website, on the specific event pages.
The physical printed booklet, if available, will be made available at the venue. This is free of charge.
Combined Programme Booklets. These days, we combine 3 or 4 concerts in one programme booklet so that concertgoers can re-use a single copy across concerts.
We apologise if programme booklets run out - please look for the QR code at the concert or visit the event webpage for the digital version. The SSO takes great care not to over-print to prevent wastage. Your support and understanding is much appreciated!
Social Media Channels
We often feature artiste interviews, rehearsal clips and other features on our social media channels. Follow us on Facebook, Instagram, Twitter and YouTube - and feel free to ask us for advice.
Dress codes are not enforced at SSO concerts. Most patrons turn up in business attire or smart casual outfits – which means no shorts, singlets or slippers. Formal dress can be worn to special gala performances.
Video recordings and photography of any kind are not permitted when musicians are actively performing. However, non-flash photography is allowed during bows and applause - so long as the musicians are not performing.
Our rules are much more relaxed for Babies' Proms and Concerts for Children. You are welcome to use non-flash photography at such concerts, at any time.
It is never too early for the young ones to start enjoying classical music! However we do ask that they do not talk loudly, fidget or distract other audience members. Younger children under 7 years of age are not admitted into the concert hall, except for selected performances such as Babies' Proms and Concerts for Children where rules are much more relaxed. Please see the Admission Advice and Rules for each event for details.
We seek everyone's understanding that we will request parents/guardians to take disruptive children out of the hall. If you're not certain of your child's capacity to behave, we recommend sitting near the aisles or the back of the hall. Exposing children to classical music is important to us, and we would certainly do our best to help you.
We also recommend taking children to our outdoor or community concerts!
SSO concerts begin promptly at 7.30pm unless otherwise stated. Please arrive at least 15 to 30 minutes before the concert begins, to ensure you have ample time to get to your seat.
[Sep 2022: at this time, proof of vaccination is still required for entry into events with 500 or more attendees. Please ensure you have appropriate proof via TraceTogether or other official means].
Latecomers will not be admitted until a suitable break in the programme. This is usually after the first piece of music is finished, or it could even be during the intermission. It differs widely from concert to concert depending on the nature of the programme. Our honest advice is: don't be late!
Note that if you leave the hall before or during a performance, you may also not be able to re-enter at all.
Coughing, talking and noise can cause disturbance to the performers on stage and interfere with audience enjoyment. If you are in the middle of the concert and start to cough or need to open a plastic bag, please try to muffle the sound.
TIP: wait for a loud moment in the music to do so!
Mobile phones and alarm watches must be silenced during a performance, and you should check again after the intermission that these are turned off.
It is tradition to applaud when the Concertmaster comes on stage, and again when the conductor and soloist(s) enter. After that, you may applaud at the end of each work.
Many longer pieces of music have several sections known as movements, separated by a brief, silent pause. For example, most concertos have three movements and symphonies have four.
Traditionally, applause is only expected at the end of the entire work, rather than between each movement.
If you are unsure:
Check the programme booklet to see how many movements there are in a piece.
Wait for the conductor to indicate that the piece has finished. E.g. conductor may put down his baton, congratulate the orchestra and/or turn to acknowledge the audience.
Wait for more experienced concert-goers to clap first.
It is a great pleasure to us to arrange the opportunity to meet the peformers, including guest artistes. Meet the artistes and offer your compliments at the autograph session. Autograph sessions are indicated on the event's page and a list is available on our Autograph Sessions page.
Please wait patiently in line and be considerate to those waiting by keeping your conversation with the artistes brief. Photographs may be allowed at the discretion of the artistes and SSO management.
Most autograph sessions are held during the 20-minute intermission. Time is limited, but we do our best to enable every one to meet the artist. This often means the session's pace is very quick. Thank you for your understanding.
Priority Queues. For certain autograph sessions, a priority queue is available for attendees bearing artiste merchandise (such as albums). You can bring your own copies to access this queue.
Our SSO merchandise carts are located outside Door 1 (Level 1) at the Esplanade Concert Hall and Door 1 (Level 2) at the Victoria Concert Hall. A wide range of SSO albums, artiste CDs and other attractive SSO memorabilia such as music pins, key rings and tote bags, is available for purchase. We are open before and after most performances, and during intermission. You can also purchase our merchandise online on our Shopify store.
Payment is only by cash, GrabPay or PayNow. (Credit cards are accepted on our Shopify store)
Feel free to chat with our staff if you're looking for programme booklets, information on the concert or hall, etc.!