Singapore Symphony Orchestra Announces 20/21 Season Under Chief Conductor Hans Graf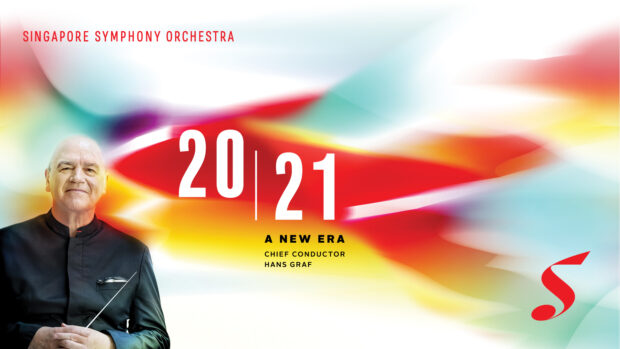 Chief Conductor Hans Graf joins SSO for his first season
Six Beethoven symphonies to feature in the 250th anniversary year
Landmark Sibelius symphony cycle, conducted by Klaus Mäkelä and others
Guest artists include soprano Diana Damrau, pianist Krystian Zimerman, violinist Janine Jansen, trumpeter Sergei Nakariakov and conductors Vasily Petrenko, Neeme Järvi, Masaaki Suzuki and Xian Zhang
SSO Pops to include a screening of Alfred Hitchcock's Psycho with live orchestra, plus a celebration of Hans Zimmer
Concerts for Children including 'Symphonic Sorcery – The Music of Harry Potter' and a NEW SSO Christmas Matinee for Children
NEW for 20/21 season: SSO Friends Season Pass for 2
View/download the SSO 20/21 Season Brochure (PDF)
The Singapore Symphony Orchestra today unveils its 20/21 Season, its first under Chief Conductor Hans Graf. The season boasts an ambitious and varied scope, taking in a Sibelius symphony cycle, a wide-ranging celebration of Beethoven's 250th anniversary and performances by many of the world's top musicians.
The announcement takes place against the backdrop of uncertainty around the world because of the COVID-19 outbreak. As a result, tickets for the 20/21 season will be released in phases to ensure all the SSO's concerts comply with the Ministry of Health's COVID-19 safety measures, and for the ease of mind of our patrons. Concerts to be held in July will go on sale in May; all other concerts will go on sale from June onwards.
In this landmark Beethoven anniversary year, the SSO celebrates the great composer's music with highlights including: Hans Graf conducting the Third Symphony ('Eroica'), Masaaki Suzuki conducting the Ninth Symphony and Neeme Järvi conducting the Fifth Symphony. Krystian Zimerman will perform and conduct all five Beethoven piano concertos in a series titled 'Emperor of the Piano', and Ye-Eun Choi will be the soloist for Beethoven's Violin Concerto.
Maestro Hans Graf begins his tenure, and the season, in July with a concert of Shostakovich and Beethoven, opened by an SSO commission by Zechariah Goh, 承 Flow. He returns for a set of concerts in October, the first of which brings together Mozart and Haydn with Stravinsky's Violin Concerto (soloist Kam Ning), while the second pairs Shostakovich's Violin Concerto No. 2 (soloist Vadim Gluzman) with Beethoven's Seventh Symphony. Later in the season he conducts the much-loved Eroica Symphony, both in the Esplanade Concert Hall and in venues around Singapore. In April next year Hans Graf is joined by soprano Sumi Hwang for a concert exploring the ground-breaking music of Mahler – including the Fourth Symphony, a work last performed in its full orchestral form by the SSO in 2010.
This season the orchestra also explores the legacy of Finland's greatest composer, Jean Sibelius. Klaus Mäkelä conducts symphonies Nos. 3, 4, 5, 6 & 7 in a set of two programmes across three nights, while Vasily Petrenko conducts the composer's Second Symphony and Daniel Blendulf conducts the composer's First.
The Singapore Symphony Orchestra continues to attract the world's top musicians to collaborate. In the 20/21 season our guest artists include soprano Diana Damrau, soprano Evelina Dobračeva, violinist Janine Jansen and trumpeter Sergei Nakariakov. This season's roster of guest conductors include Jun Märkl, Neeme Järvi, Masaaki Suzuki and Xian Zhang, as well as our Principal Guest Conductor, Andrew Litton.
The orchestra continues its popular Concerts for Children series, with this season's line-up including Symphonic Sorcery: The Music of Harry Potter, A Musical Tumble Through Time, Family Film Favourites and – a new addition – the SSO Christmas Matinee for Children. Alongside, the SSO continues its series of free community and outdoor concerts including Symphony in the Gardens at the Singapore Botanic Gardens and Gardens By The Bay.
In response to popular demand, the SSO today launches a new SSO Friends Season Pass for 2. The orchestra's existing Season Pass scheme allowed one ticket to be bought in each transaction. With the Season Pass for 2, patrons can redeem two tickets for each concert they'd like to attend and take a friend, family member or partner to enjoy an SSO subscription concert with them. More details can be found at sso.org.sg.
Goh Yew Lin, Chairman of the Singapore Symphony Group, said: "We launch the new season amidst considerable uncertainty, and in a spirit of hope and optimism. It is not clear when live concerts will resume, or where this pandemic will take us; but when it has passed, we will be ready to welcome you back to our wonderful concert halls with great music and exceptional artists.
"In particular we look forward to welcoming the Singapore Symphony Orchestra's new Chief Conductor, Hans Graf, whose magnificent concert of Tchaikovsky's Pathétique Symphony in January 2020 provided an exciting glimpse of the treats that we have in store for you in the coming seasons."
Hans Graf, Chief Conductor of the Singapore Symphony Orchestra, said: "It is an honour and a joy for me to welcome you to my debut season as Chief Conductor of the Singapore Symphony Orchestra. In my first season with this orchestra, I would like to propose a wide variety of works and styles, from familiar favourites to new works unknown to you and the orchestra. Together with the musicians of the SSO, I welcome you to our new season, looking forward to many opportunities for us to get to know each other better – with the help of music!"
Tickets go on sale from May.
Latest News
Latest News
Latest News
Latest News
Latest News
Latest News