LAN SHUI AND THE SINGAPORE SYMPHONY ORCHESTRA TO PRESENT MUSIC BY BRAHMS AND TENGKU IRFAN IN KUALA LUMPUR ON NOV 19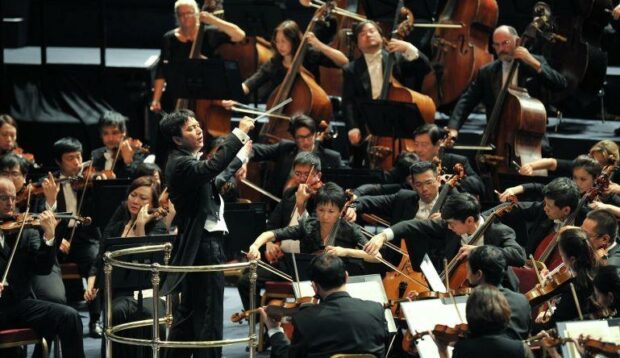 On November 19, the Singapore Symphony Orchestra and Music Director Lan Shui will return to the stage of the 920-seater Dewan Filharmonik PETRONAS in Kuala Lumpur, after an absence of 17 years. Joined by a 100-strong combined chorus comprising the Singapore Symphony Chorus, Singapore Symphony Youth Choir and the Choir of the Transylvania State Philharmonic, Lan Shui will direct the SSO in three masterpieces by Brahms: the Schicksalslied (Song of Destiny) and Gesang der Parzen (Song of the Fates), as well as the sunny Symphony No. 2 in D major.
Lan Shui will open the concert with 19-year-old Malaysian prodigy Tengku Irfan's newly minted Meditation for orchestra, which will receive its world premiere in Singapore two days earlier on November 17. Irfan is currently a student in the Juilliard School in New York, where he is studying piano, composition and conducting.
Mr Chng Hak-Peng, Chief Executive Officer of the Singapore Symphony Group, says: "The Singapore Symphony Orchestra and Chorus are very excited to have this opportunity to share their music-making with the audience in Kuala Lumpur. This visit marks the first overseas performance by the Singapore Symphony Chorus."
Since it was formed in 1980, the Singapore Symphony Chorus has established itself as one of the finest choirs in the region and one of the few symphony choruses in Southeast Asia. Led by Choral Director Eudenice Palaruan, it is made up of volunteers who are united in their love for choral singing. The Singapore Symphony Youth Choir is made up of choral singers aged between 14 and 28, and is the newest choral ensemble to sing under the belt of the SSO.
On December 13, the Malaysian Philharmonic Youth Orchestra will perform in Singapore's Esplanade Concert Hall, as part of a youth orchestra celebration that will also feature the Singapore National Youth Orchestra. The youth ensembles of Singapore and Malaysia enjoy close ties, and have worked on several musical exchanges. In November last year, the Singapore National Youth Orchestra and the Singapore Symphony Children's Choir performed in the Dewan Filharmonik PETRONAS as part of YouthFest there.
This concert is supported by the Singapore High Commission in Kuala Lumpur.
Subscription Concert
Song Of Destiny • Brahms Symphonies
Lan Shui, conductor / The Choir of the Transylvania State Philharmonic, Cluj-Napoca / Eudenice Palaruan, choral director
Fri / 17 Nov 17 / 7.30pm
Esplanade Concert Hall
The Schicksalslied, a portrait of spiritually blinded mortals and Elysian spirits, is one of Brahms' most ethereal and profound masterpieces. The concert opens with music from Malaysian child prodigy Tengku Irfan and ends with Brahms' Second Symphony, suffused with Romantic pastoral sunshine.
Due to the SGX Bull Charge 2017 event, selected roads around Esplanade will be closed on Friday, 17 November 2017. Please visit https://bullcharge.sgx.com/race-information/ for more information and latest updates.
Featuring
Lan Shui, conductor / The Choir of the Transylvania State Philharmonic, Cluj-Napoca / Eudenice Palaruan, choral director
Programme
Meditation

Tengku Irfan

Gesang der Parzen, Op. 89 ("Song of the Fates")

Johannes Brahms (Brahms)

Schicksalslied, Op. 54 ("Song of Destiny")

Symphony No. 2 in D major, Op. 73
For press enquiries, please contact:
Singapore Symphony Group
80 Bencoolen Street, Level 8
NAFA Campus One Tower Block
Singapore 189655
T +65 6602 4229
cheryl@sso.org.sg
Latest News
Latest News
Latest News
Latest News
Latest News
Latest News