Over 80 young talent take the stage at 13th edition of National Piano & Violin Competition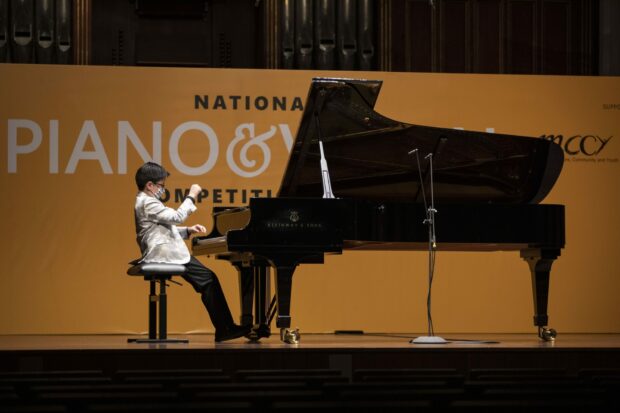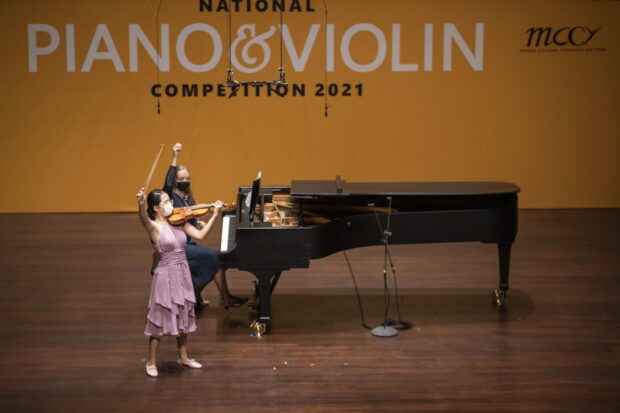 Singapore, 6 December 2021 — After nine days of competition, the 13th edition of the National Piano & Violin Competition (NPVC) has successfully concluded. The biennial competition is one of Singapore's leading platforms that celebrates music excellence, identifies young talented musicians, and supports their development and musical journey.
This year, 81 participants selected from 259 applicants performed from the Victoria Concert Hall and Esplanade Recital Studio in 24 competition sessions livestreamed on Singapore Symphony and Singapore National Youth Orchestra's platforms. The public enjoyed piano and violin solo performances from four categories: Artist (25 years and below); Senior (21 years and below); Intermediate (15 years and below); Junior (11 years and below).
The 81 participants performed before a panel of renowned international adjudicators that comprised six world-class musicians. They are Anna Tsybuleva, Ewa Kupiec and SSO Conductor Laureate Lan Shui for piano, and Denis Goldfeld, Eszter Haffner and Joshua Tan for violin.
Piano adjudicator Lan Shui said, "I am glad to have witnessed so many exceptional young talents take the stage throughout the competition. The participants have put in tremendous effort in preparing for the competition in the midst of the pandemic, and there are many excellent performances that have captivated the panel of judges. I hope this experience will bring wider recognition of their talent and spur them to greater heights." Lan Shui was Music Director of the SSO from 1997 to January 2019, during which he worked with numerous world-class pianists, as well as many talented young musicians in the SSO President's Young Performers series.
Violin adjudicator and Austrian violinist Eszter Haffner said, "The performances in the past few days have moved me. The amount of skill seen here at the National Piano & Violin Competition is very high and I must commend the teachers for doing a great job. I look forward to hearing more from these talented musicians in the coming years. The organisation of the competition is also done perfectly and we feel very well taken care of. This has left an unforgettable impression and I hope to return soon." Haffner is one of the respected violinists of our time. Over the last 30 years, she has been captivating audiences around the world with her distinctively rich sound, and outstanding musicianship. She is professor for violin at the Royal Academy of Music Copenhagen (Denmark), University of Art in Graz, at the MDW in Vienna, Austria.
Participants of the Artist and Senior categories for both violin and piano performed a set piece by Singaporean composer Tan Yuting, in addition to their self-selected programmes. The award-winning composer shared: "I am honoured and grateful to have my works performed at NPVC, and I enjoyed the performances very much. For me and, I believe, many others as well, the childhood games which inspired the pieces are nostalgic reminders of simple joys from the past. With familiar gestures from the games playfully reflected in the music, it was incredible to see how every participant interpreted the score and musically brought these games to life!"
Since the launch of NPVC in 1997, notable Singaporean musicians have come through the competition, such as violinists Chloe Chua and Samuel Tan, who have since performed alongside professional musicians internationally.
The biennial competition has continually developed young music talent by providing them the opportunity to perform before established local and international adjudicators since 1997. It aims to improve musical standards and performance levels of piano and violin in Singapore.
The top three winners in each category received trophies, certificates and cash prizes of up to $5,000. The winners of the four categories and honourable mentions are:
PIANO CATEGORIES
Junior (11 years & below)
First prize winner: Luther Ong Boon Khang
Second prize winner: Li Zihan
Third prize winner: Kuah Jiun Kai
Third prize winner: Low Ze Jun Jerry
Intermediate (15 years & below)
First prize winner: Chen Jing
First prize winner: Meng YiRuiXue Jessie
Third prize winner: Ng Ee Oon
Honourable Mention: Xu Ruojin
Senior (21 years & below)
First prize winner: Joshua Lau Jin Quan
Second prize winner: Justin Low Ren Kai
Third prize winner: Jaden Tan Yu Xuan
Honourable Mention: Chen Guangyuan
Artist (25 years & below)
First prize winner: Kuo, Lyu-Yan
First prize winner: Sean Gan Chu Chao
Third prize winner: Chong Jun Hao
VIOLIN CATEGORIES
Junior (11 years & below)
First prize winner: Sophia Ann Fang
Second prize winner: Liu Yu An Annie
Third prize winner: Elise Loh Xin En
Honourable Mention: Lim Yongren Yuto
Intermediate (15 years & below)
First prize winner: Hannah Pang Hsien Han
Second prize winner: Cheng Wang Hoi, Jacob Reuben
Third prize winner: Hee Le-Shaine
Third prize winner: Low Peng Guan
Senior (21 years & below)
First prize winner: Javan See Kaiyi
Second prize winner: Alyssa Goh Hui Yi
Third prize winner: Joel Hoe Kai-En
Artist (25 years & below)
First prize winner: Dai Ailin
Second prize winner: Chien Chin
Full list of competition results here.
Enjoy a playback from the Finals here.
ABOUT THE NATIONAL PIANO & VIOLIN COMPETITION
The National Piano & Violin Competition is Singapore's oldest and most prestigious music competition. In its 14th edition, this biennial competition celebrates music excellence and serves as a platform to identify music talent, as well as to develop and nurture young musicians by providing them with the opportunity to showcase their performing skills and musicality before international adjudicators.
ABOUT THE SINGAPORE SYMPHONY GROUP
The Singapore Symphony Group manages the flagship Singapore Symphony Orchestra, the Singapore Symphony Choruses, the Singapore National Youth Orchestra, and the VCHpresents Chamber Music series, the Singapore International Piano Festival and the biennial National Piano & Violin Competition. The Group also represents the Associated Board of the Royal Schools of Music (ABRSM) in Singapore.
The mission of the Group is to create memorable shared experiences with music. Through the SSO and its affiliated performing groups, we spread the love for music, nurture talent and enrich our diverse communities.
Latest News
Latest News
Latest News
Latest News
Latest News
Latest News