SINGAPORE SYMPHONY AND MELBOURNE SYMPHONY TO COLLABORATE FROM 2019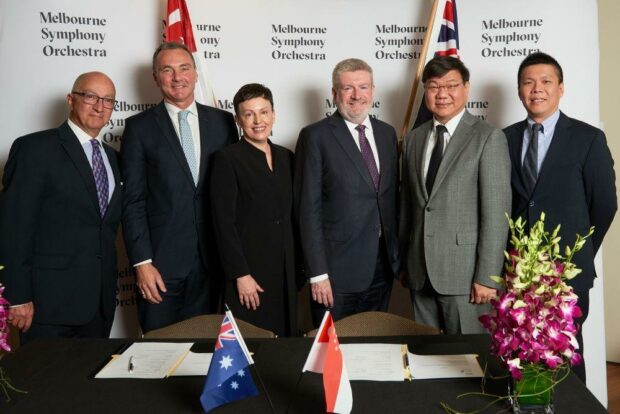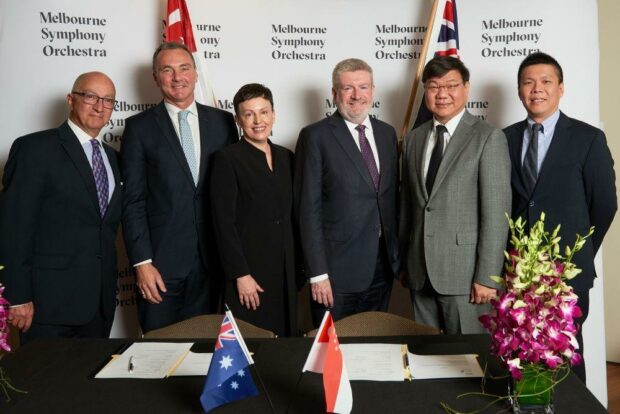 Melbourne, Australia — The Singapore Symphony Orchestra has signed a four-year Memorandum of Understanding (MOU) with Melbourne Symphony Orchestra.
The MOU, which takes effect from 2019, will allow the two orchestras to embark on conductor, musician and administrative staff exchanges, perform in their respective cities, and co-commission works.
The signing took place this morning in Melbourne, between Singapore Symphony Group CEO Mr Chng Hak-Peng and Managing Director of Melbourne Symphony Orchestra Ms Sophie Galaise. It was attended by Australia's Minister for Communications and the Arts, Hon. Mitch Fifield; Singapore's High Commissioner to Australia Mr Kwok Fook Seng; and Melbourne Symphony Orchestra Chairman Mr Michael Ullmer.
Said SSG CEO Chng Hak-Peng, "We're excited to partner the Melbourne Symphony Orchestra, a leading Australian orchestra and 100-year-old institution. By including musicians and staff exchanges as well as tours and co-commissions, this partnership will greatly benefit artistes and arts managers from the two countries, and foster greater mutual understanding for both sides.
"This is the first time the Singapore Symphony Orchestra is signing an MOU with an Australian orchestra. It will also be our most extensive MOU to date, and a valuable opportunity for us to reflect Singapore to a wider international audience through music."
The SSO has existing partnerships with BBC Symphony Orchestra, Malaysia Philharmonic Orchestra, National Taiwan Symphony Orchestra, Tokyo Metropolitan Symphony Orchestra, and the Shanghai Orchestra Academy, which include professional exchanges and training.
Sophie Galaise, Managing Director of Melbourne Symphony Orchestra, said, "The MSO is very proud to enter into this partnership with the Singapore Symphony Group. Our shared mission is to inspire and engage audiences worldwide and this agreement is significant for our countries and our cultural sectors. The MSO is looking forward to working with the SSG on joint performance opportunities, artistic professional exchange, co-commissions and artistic collaborations."
Mrs Rosa Daniel, CEO of National Arts Council, Singapore, said, "This partnership is a result of the Memorandum of Understanding on Arts and Culture, signed between Australia and Singapore in 2015, which will continue to drive bilateral arts and culture cooperation. We look forward to more meaningful exchanges between the two orchestras, including collaborations that will showcase the cultures of both countries to audiences in Singapore and Australia, and beyond."
For press enquiries, please contact:
Singapore Symphony Group:
Leong Wenshan (Ms)
+65 6602 4237
wenshan@sso.org.sg
National Arts Council, Singapore:
Ho Binjin
+65 6346 9471
HO_Binjin@nac.gov.sg
Supported by:

Latest News
Latest News
Latest News
Latest News
Latest News
Latest News