Singapore Symphony Choruses Release Music Video "we Will Get There"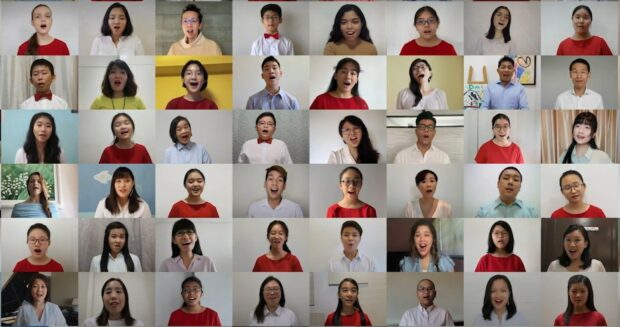 Rallying music video features 149 singers and musicians, recorded from home
This evening, the Singapore Symphony Choruses will be releasing the music video, "We Will Get There", featuring singer Joanna Dong, string musicians of the Singapore Symphony Orchestra, and choral accompanists, Gabriel Hoe and Shane Thio.
The video will premiere on 15 June 2020, after 7pm, on Mediacorp Channel 5. With the support of Mediacorp and Gov.sg, repeat broadcasts will be carried throughout the week. The video will also be available to view on the Choruses' social media pages, the Singapore Symphony Orchestra's Facebook page and the SSO YouTube channel after the premiere broadcast.
The project aims to rally Singaporeans as the city moves into the first phase of the post-circuit breaker period. The song, "We Will Get There", a National Day Parade theme song from 2002 by Dick Lee, was selected for its poetic lyrics and relatability to the current situation — as a reminder for everyone to give hope to one another as a community.
The video features members from all three choruses of the Singapore Symphony Group, between the ages of 11 and 62, who had recorded their parts from home. Footage in the video include those of the two pianists playing in Victoria Concert Hall, and scenes around the city during the circuit breaker. It also contains a speech excerpt from Prime Minister Lee Hsien Loong in one of his early addresses to the nation on the COVID-19 pandemic.
Production for both versions began in May and took a month to complete, involving a total of 149 singers and musicians.
The three choruses of the Singapore Symphony Group are:
Singapore Symphony Chorus – The SSC was established in 1980 to perform alongside the SSO and continues to celebrate choral excellence with passionate choristers.
Singapore Symphony Youth Choir – The SSYC aims to inspire choral passion by providing a motivating environment for its fine young choristers, to perform alongside the SSO.
Singapore Symphony Children's Choir – Nurturing choral brilliance, the SSCC comprises singers 9 to 18 years-old, and is the only children's choir that performs with the SSO.
Choral Director Eudenice Palaruan and Choirmaster Wong Lai Foon, who also sang in the video, shared how the production, made remotely from homes, did not detract from the emotional power of the music.
"Early on in the pandemic, for the safety of our choir members, we decided to cancel rehearsals and performances," said Mr Palaruan. "Nevertheless, we each still have our musical instrument — our voice. While we cannot see each other, we hope our audience can hear the passion with which our members sang, and agree that music can indeed help us get through tough times."
For Mrs Wong, who trains the youth and children's choirs, "Having been on a rehearsal hiatus for two months, it was heartening to see singers from all three choirs on screen, coming together enthusiastically to sing, albeit separately and remotely. In spite of the uncertainties, the power of music can inspire hope. There will be better days ahead for Singapore and we will get there together."

WE WILL GET THERE MUSIC VIDEO
Date and Time: 15 June 2020, Monday, after 7 pm
Where to view: Mediacorp Channel 5, Singapore Symphony Choruses pages, SSO Facebook page and SSO YouTube Channel
Link: https://www.facebook.com/watch/?v=988162951616887
Music & Lyrics: Dick Lee
Music & Choral Arrangement: Gabriel Hoe
Choral Director: Eudenice Palaruan
Choirmaster: Wong Lai Foon
Lead Vocals: Joanna Dong
Solo Lines: Wong Lai Foon & Eudenice Palaruan
Performers
Singapore Symphony Chorus
Singapore Symphony Youth Choir
Singapore Symphony Children's Choir
Gabriel Hoe & Shane Thio, piano
Ye Lin & Zhao Tian, violin
Gu Bing Jie, viola
Chan Wei Shing, cello
Latest News
Latest News
Latest News
Latest News
Latest News
Latest News