Singaporean Musician Kevin Loh Brings First Guitar Solo To President's Young Performers Concert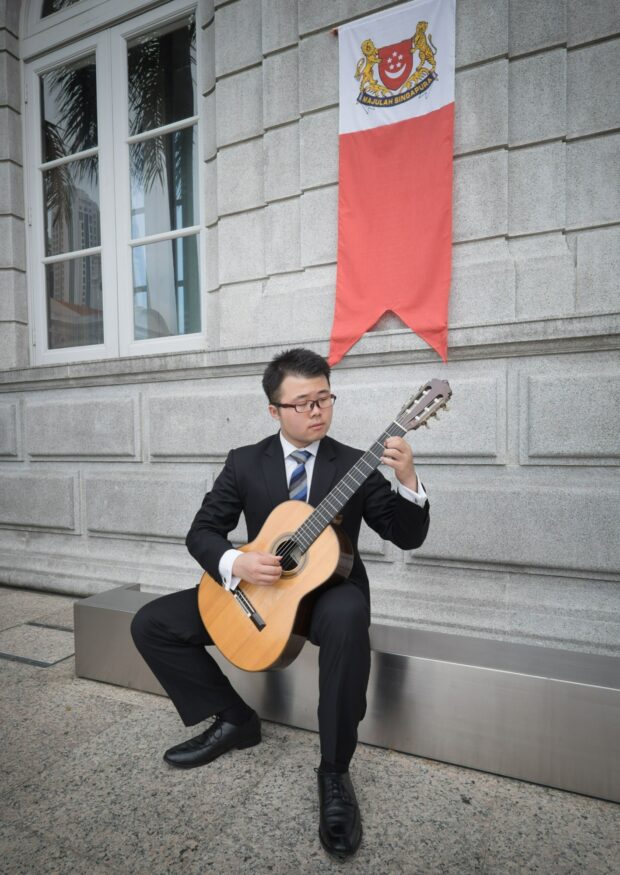 NEWS RELEASE
Singapore
Singaporean Musician Kevin Loh Brings First Guitar Solo to President's Young Performers Concert
Twenty-one year-old Singaporean musician Kevin Loh is the soloist in this year's President's Young Performers Concert, to be held at the Victoria Concert Hall on 27 September 2019 (Friday).
The annual concert is a prestigious platform for Singapore's brightest young talents to share the stage with their national orchestra, the Singapore Symphony Orchestra. An international award-winning classical guitarist, Loh will perform Concierto de Aranjuez. This is the first time a guitar performance is presented in this Concert series, which was launched in 2001.
President Halimah Yacob is the Guest-of-Honour for the event. Youths from Purple Symphony, Beyond Awesome, and Bukit Panjang Primary School are invited to attend the concert on complimentary tickets, made possible through the support of the orchestra's donors. SSO Associate Conductor Joshua Tan will lead the concert.
Born and raised in Singapore, Loh was talent-scouted by The Yehudi Menuhin School via his YouTube channel when he was only 12 and went on to study at the prestigious music school, thanks to grants by rock band The Rolling Stones, HSBC and the UK government. He left to pursue his musical and academic studies in 2010 and returned in 2017 when he was 19 to serve his National Service as a combat engineer. Loh recently completed his National Service in August. As an active performer, he has placed first in many of the world's prestigious classical guitar competitions. In 2017, he won the 1st Prize in the Open Category at the 34th Volos International Guitar Festival and Competition in Greece.
Kevin has performed around the world, including the Wigmore Hall in London, the Berlin Konzerthaus and the Suntory Hall in Tokyo. He has worked with various orchestras including the SSO, with whom Kevin gave the world premiere of the Guitar Concerto by Singaporean composer Professor Bernard Tan in 2013.
Past President's Young Performers Concerts have featured pianists Abigail Sin, Azariah Tan, and Lim Yan; violinists Chan Yoong-Han and Loh Jun Hong; and conductors Darrell Ang, and Joshua Tan (who is conducting this concert).
Season 2022/23 • Subscription Concert
President's Young Performers Concert
Singapore Symphony Orchestra / Rodolfo Barráez, Associate Conductor / Pualina Lim, piano¹ / Quek Jun Rui, oboe² / Evangeline Ng, soprano³
Fri / 26 Aug 22 / 7.30pm
Sat / 27 Aug 22 / 7.30pm
Victoria Concert Hall
A sign of Singapore's growing league of gifted musicians, this year's President's Young Performers Concert has the pleasure of featuring not one but three young stars: NUSS Medal for Outstanding Achievement Award recipient pianist-composer Pualina Lim, former Singapore National Youth Orchestra Principal Oboe Quek Jun Rui, and New York-based Evangeline Ng, an award-winning soprano "destined for great things".
Featuring
Singapore Symphony Orchestra / Rodolfo Barráez, Associate Conductor / Pualina Lim, piano¹ / Quek Jun Rui, oboe² / Evangeline Ng, soprano³
Programme
| | |
| --- | --- |
| Pastorale d'été | Arthur Honegger (Honegger) |
| Piano Concerto No. 9, K. 271 "Jeunehomme" ¹ | Wolfgang Amadeus Mozart (Mozart) |
| Introduction, Theme and Variations for Oboe and Orchestra, Op. 102 ² | Johann Nepomuk Hummel (Hummel) |
| Four Songs, Op. 27 ³ | Richard Strauss (R. Strauss) |
For photographs and interviews, please contact:
haslina.hassan@sso.org.sg
T +65 6602 4217
Singapore Symphony Group
80 Bencoolen Street, Level 8,
NAFA Campus One Tower Block
Singapore 189655
Latest News
Latest News
Latest News
Latest News
Latest News
Latest News