VICTORIA CONCERT HALL ANNOUNCES 2017/18 SEASON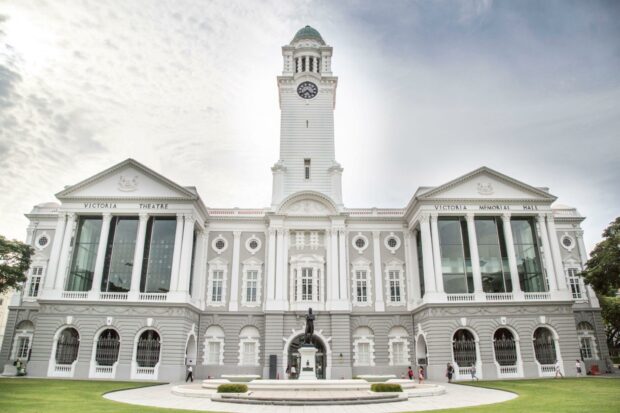 A plethora of chamber music concerts featuring SSO musicians and guests, including the debut of SSO Cello ensemble CelliSSO.
Guest artistes include star violinist couple Gil Shaham and Adele Anthony, the London Haydn Quartet, violinists Alina Ibragimova and Peter Hanson, and the world-famous King's Singers.
Thought-provoking organ programme with recitals featuring collaborations with sand artist, Singapore composers, choir and a live organ "soundtrack" with the 1929 Phantom of the Opera silent film.
Concerts for family, children, Discovering Music! educational concerts, free lunchtime concerts and an open house at the VCH.
The Victoria Concert Hall today announced their 2017/18 season which boasts an impressive lineup of programmes and exciting guest artists who will share their stage.
Since the re-opening of the Victoria Concert Hall (VCH) in July 2014, the hall aims is to find ways to make memorable encounters with classical music for people in Singapore. The 2017/18 season will continue this mission with a variety of programmes both traditional and innovative. Besides the familiar sounds of string, keyboard or voice, VCH Presents will challenge your expectations about what goes into the programming of the 673-seat Grand Dame of Empress Place. Besides solo piano fireworks and classic chamber ensembles – VCH will also be a stage for Christmas choruses, sand art, mime artists and even the Phantom of the Opera.
The Orchestra in its Home
The Singapore Symphony Orchestra (SSO) will present a number of concerts at their Home.
Speaking of new notes, new works and young musicians also feature this season. The President's Young Performers Concert (29 Sep 2017) will showcase NAFA graduate and rising brass soloist Kang Chun Meng in an euphonium concerto, conducted by SSO Associate Conductor Joshua Tan. The Singapore Symphony Children's Choir Experience is for kids who love to sing! We invite children age 8 - 14 to an unforgettable day of music-making to help them discover their voice, with an opportunity to sing on stage at the VCH (4 & 5 Sep 2017). Join the SSCC again on 27 May 2018 for their 12th anniversary concert Timeless Splendour.
A is for Aiyah - a name that can only be Singaporean, is the work of composer Diana Soh, an alumnus of the Yong Siew Toh Conservatory and now based in Paris - her piece will see its world premiere on 2 Mar 2018 played by the Singapore Symphony Orchestra alongside a provocatively modern programme.
Leading Venue for Chamber Music
Since it opened as the Victoria Memorial Hall in 1905, VCH is still Singapore's leading chamber music venue. The premier VCH Presents series showcases the best international and local chamber music talent.
Virtuoso violinist husband and wife duo Gil Shaham and Adele Anthony (8 Jul 2017) share their intimate dialogues between two violins in Bartók's 44 Duos for Two Violins, Wieniawski's demanding Etudes-Caprices, Op.18 and an arrangement of jazz favourite Sweet Georgia Brown.
The ten cellists of the SSO have formed CelliSSO (22 Oct 2017) - debuting in this concert of imaginative works for cello ensemble by Carl Vine, Arvo Pärt and Sollima, with soprano Jeong Ae Ree joining them for Villa-Lobos' signature Bachianas Brasileiras.
For aficionados of string quartets, the acclaimed London Haydn Quartet, one of the world's leading period instrument quartets, will arrive with a charming programme of Haydn string quartets as well as Mozart's beautiful clarinet quintet (21 Sep 2017).
We also continue to bring great vocal chamber music to the scene.
Our special guests this year include The King's Singers - a household name standing for choral and vocal excellence. They will present two concerts: GOLD 50 charts a journey along the music that has defined the King's Singers over the last 50 years (23 Feb 2018); on their second night in Singapore, the King's Singers collaborate with the Singapore Symphony Children's Choir in a special programme of charming virtuosity and youthful energy.
From solo drama we come to choral magnificence as The Philharmonic Orchestra and Chamber Choir under Lim Yau perform Beethoven's joyous Choral Symphony in the fourth installment of their Beethoven Symphonies cycle (15 Oct 2017).
The SSO Chamber Series showcases the musicians of the orchestra in chamber settings among themselves, and also with international artists.
The SSO Musicians also assemble, quartet-sized, For the Emperor - two nights of string quartets by the Father of the String Quartet, Haydn, as well as the "Prussian Quartets" by Mozart (11 & 12 Aug 2017).
Take a trip with UK period instrument violinist Peter Hanson, on a two-night journey showcasing The Glory of Baroque (18 & 19 May 2018).
Acclaimed young British-Russian violinist Alina Ibragimova is Russian at Heart, joining musicians of the SSO in an all-Russian programme of string quartets by Tchaikovsky, Prokofiev and Shostakovich (1 Apr 2018). Alina also performs the Brahms Violin Concerto with the SSO on 30 Mar 2018.
Speaking of the jazz influence, the sublime combination of flute, viola and harp are perfectly suited for the mercurial and expressive French Flavours, a programme of Debussy, Gershwin and the neglected music of French composer George Onslow (10 Sep 2017).
Pushing boundaries
We have programmes where we want audiences to stop and question, "is this classical music?" To do this, we collaborate with ground-breaking artists in their own fields, facilitating their creative synergies.
More with voices in La Voix Humaine, Poulenc's operatic setting of Jean Cocteau's emotional monologue, probing the tragedy of rejection, loss and despair. Soprano Jennifer Lien, pianist Shane Thio and multimedia artist Brian Gothong Tan join forces to explore this intimate and powerful solo opera directed by Ivan Heng (12 & 13 May 2018).
We will also collaborate with jazz musician Chok Kerong on a work commissioned for the VCH's Klais pipe organ (16 Aug 2017).
A Lighter Programme for All
For anyone just starting their journey of getting to know classical music, the Orchestra welcomes you in its Home to get to know classical music in a child-friendly setting.
Young musicians to-be are always an important audience at VCH. The stories continue in our concerts for children and families. The tale of Peter and the Wolf is retold by the orchestra with the amusing antics of Magic Circle Mime Company (2-3 Sep 2017), while puppeteer Victor Yerrid will enchant audiences in Nature Tales (4-5 Sep). Finally, creative musician/presenter Alasdair Malloy will Summon the Superheroes to the stage to save the day with the SSO (17-18 Mar 2018).
Besides the ever-popular SSO Babies Proms (25-26 Nov), the SSO has designed three educational concert experiences in our Discovering Music! series. Helmed by Associate Conductor Jason Lai, each concert will feature one piece of music, whose background, story and composition Jason and the orchestra will delve into.
For more exposure to the gems of orchestral music, join the SPH Gift of Music Series' free lunchtime concert at the Victoria Concert Hall on 21 Jul 2017. The SSO will also perform again at a free Lunchtime Concert on 8 March 2018.
SSO Principal Flute Jin Ta & Friends invite you feel infectious dance energy in a concert of music by Piazolla and Mower, as well as Henry Mancini of Pink Panther fame (30 Jul 2017).
Join the SSO in its annual Christmas Concert (15 - 17 Dec 2017) where you can sing along to a sparkling repertoire of yuletide tunes with the orchestra and choir.
Singapore's Champion for the Pipe Organ and Piano
VCH is also proud to be Singapore's leading proponent of the pipe organ and the piano through the VCH Organ Series and the Singapore International Piano Festival.
For a start: what could be more complementary to the 1925 silent film Phantom of the Opera, than an actual pipe organ "soundtrack"? In Phantom of the Opera - the popular musical thriller puts on a different mask with this unique presentation by Dorothy Papadakos, the renowned organist known for her sold-out silent film programmes. She will accompany the wordless terror of the silent film with her imaginatively improvised organ score - an event not to be missed! (26 Oct 2017)
In Celestial Pipes (16 Jun 2018), German organist Winfried Bönig collaborates with sand artist Lawrence Koh in an animated presentation of Holst's famous Planets suite. VCH also welcomes the highly sought-after Canadian organist Isabelle Demers (20 Nov 2017).
Grand dame of the Singapore organ scene, Margaret Chen, will accompany Canticorum, the choir of the Singapore Bible College and conductor Joel Navarro in a programme of 20th century sacred works In Every Corner Sing (8 Apr 2018), while New Notes In the Pipeline (6 Aug 2017) features new compositions by Singaporean composers.
Last but not least, we are proud to announce the 25th anniversary edition of Asia's premier piano festival – the 25th Singapore International Piano Festival (7-10 June 2018). For a quarter of a century, the SIPF has presented over 80 pianists in recital, many whom are the greatest in the music world, and many who have become such over the quarter century past. In 2018, we welcome pianists Dénes Várjon, Jeremy Denk, Seong-Jin Cho and Đặng Thái Sơn.
The intimate moments of chamber music will give you space to connect within yourselves, with your loved ones, and with the musicians on the VCH stage. We wish you many memorable moments at your VCH, Home of the SSO.
For press enquiries, please contact:
Singapore Symphony Group
80 Bencoolen Street, Level 8
NAFA Campus One Tower Block
Singapore 189655
T +65 6602 4229
cheryl@sso.org.sg
Latest News
Latest News
Latest News
Latest News
Latest News
Latest News