Warner Music Singapore And Singapore Symphony Orchestra Present "Truly, SSO"
Singapore
The digital album reimagines all-time national day classics with a fresh, modern spin. Listen to Truly, SSO: https://wmsg.lnk.to/trulysso
Warner Music Singapore and the Singapore Symphony Orchestra are proud to release Truly, SSO, a 14-track digital album that reimagines all-time National Day classics with a fresh, modern spin. The release also marks the first time that the two music giants are joining forces to celebrate Singapore's birthday.
In this album of Singapore's National Day songs, Truly, SSO draws on Cultural Medallion winner Kelly Tang's excellent arrangements and conductors Joshua Tan and Darrell Ang's inspiring interpretations. The compilation contains studio recordings as well as past live performances of all-time classics such as "Stand Up For Singapore," "Rasa Sayang," "Di Tanjong Katong," "Chan Mali Chan," and many more. The Singapore Symphony Choruses provided the vocals to the well-loved songs, including a premiere performance and recording of "Peribahasa", a medley of Malay folk songs.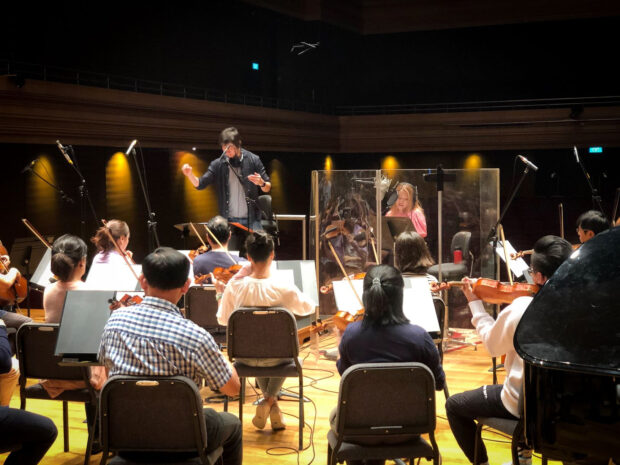 The recording was made possible by supporting partner, the Yong Siew Toh Conservatory of Music Recording Studio.
"Recording these brilliant and ingenious arrangements of tunes that I grew up with was such a revelation and joy," says SSO Associate Conductor Joshua Tan. "I hope the listener finds as much fascination as I did with these imaginative works. The heartfelt playing of our soloists in the Montage [Concerto for Jazz Piano & Orchestra] is definitely a highlight."
Adding a more contemporary touch, Warner Music Singapore artist iNCH lent her vocal chops for the moving rendition of the beautiful track, "Vanda Miss Joaquim".
Says iNCH on her participation on Truly, SSO, "I've always loved orchestral arrangements and have worked with an orchestra in Europe for my previous releases. Working with the Singapore Symphony Orchestra for a fresh take on 'Vanda Miss Joaquim' has been a wonderful experience."
For SSO trumpet player Lau Wen Rong, who is on several tracks including "Count on Me, Singapore", "I remember singing the National Anthem every morning in school and National Day songs during NDP. Recording these pieces with the SSO has been an amazing experience and a dream come true for me. I really enjoyed doing this recording and was reliving all the wonderful memories of growing up in Singapore."
Other Singaporean musicians include jazz pianist Jeremy Monteiro and drummer Tama Goh.
Released worldwide on August 2, 2019 on all digital platforms, Truly, SSO is a heartfelt gift to all Singaporeans at home and overseas, in honor of the bicentennial celebrations and in conjunction of Singapore's 54th birthday.
TRULY, SSO
FOCUS TRACK: VANDA MISS JOAQUIM – PERFORMED BY JOSHUA TAN, iNCH (SINGER), SINGAPORE SYMPHONY ORCHESTRA
RELEASE DATE: AUGUST 2, 2019
LISTEN: https://wmsg.lnk.to/trulysso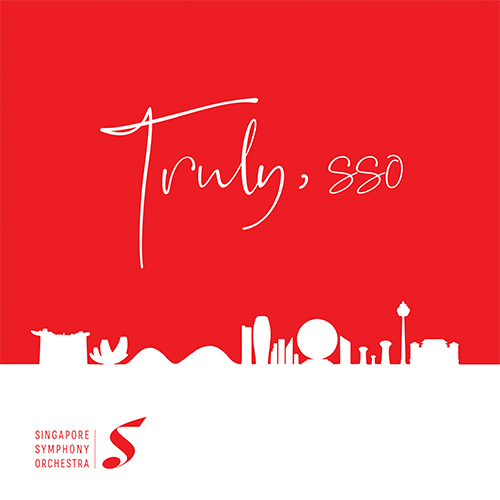 TRACK LISTING
Sketches of Singapore (A medley of Stand Up For Singapore, Rasa Sayang, Where I Belong, Di Tanjong Katong) - Performed by Joshua Tan, Singapore Symphony Orchestra

Symphonic Suite on a Set of Local Tunes rev.2005 (A medley of Home, Chan Mali Chan, Bunga Sayang, Together) – Performed by Joshua Tan, Singapore Symphony Orchestra

Montage: Concerto for Jazz Piano & Orchestra (2015) I. Moderato – Performed by Joshua Tan, Jeremy Monteiro, (piano), Tony Lakatos (soprano saxophone), Christy Smith (jazz bass), Tama Goh (drums), Singapore Symphony Orchestra

Montage: Concerto for Jazz Piano & Orchestra (2015) II. Ballad – Performed by Joshua Tan, Jeremy Monteiro, (piano), Tony Lakatos (soprano saxophone), Christy Smith (jazz bass), Tama Goh (drums), Singapore Symphony Orchestra

Montage: Concerto for Jazz Piano & Orchestra (2015) III. Moderato – Performed by Joshua Tan, Jeremy Monteiro, (piano), Tony Lakatos (soprano saxophone), Christy Smith (jazz bass), Tama Goh (drums), Singapore Symphony Orchestra

Kampong Overture (A medley of Geylang Sipaku Geylang, Lengkang Kangkung, Suriram) – Performed by Joshua Tan, Singapore Symphony Orchestra

Our Singapore Dream (A medley of Count On Me Singapore, We Are Singapore, One People One Nation One Singapore) – Performed by Joshua Tan, Singapore Symphony Orchestra

Count on Me Singapore – Performed by Jon Dante, Lau Wen Rong, Gao Jian, Sam Armstrong, Brett Stemple

细水长流 – Performed by Jon Dante, Lau Wen Rong, Gao Jian, Sam Armstrong, Brett Stemple

Vanda Miss Joaquim – Performed by Joshua Tan, iNCH (singer), Singapore Symphony Orchestra

Peribahasa (a medley of Folk Songs Enjit-Enjit Semut, Kopi Susu, Ikan Kekek) – Performed by Eudenice Palaruan, Shane Thio, Singapore Symphony Chorus

Semoga Bahagia (Live) – Performed by Darrell Ang, Singapore Symphony Choruses, Singapore Symphony Orchestra

Munnaeru Vaalibaa (Live) – Performed by Darrell Ang, Singapore Symphony Choruses, Singapore Symphony Orchestra

Home (Live) – Performed by Darrell Ang, Singapore Symphony Choruses, Singapore Symphony Orchestra
Latest News
Latest News
Latest News
Latest News
Latest News
Latest News