It is no secret that the COVID-19 hurdle has been challenging for orchestras and artists around the world. As SSO moves optimistically towards a full 2022/2023 season, we are thrilled to name our third endowed chair from July 2022 in recognition of the first major donation to the SSO since the pandemic.
The Principal Flute, Stephen Riady Chair, acknowledges the generous gift from Dr Stephen Riady, Executive Chair and Group Chief Executive of OUE Limited. The Chair is currently helmed by Jin Ta, our flutist known and well-loved for a knack for creative expression and community engagement.
Bravissimo sat down with Jin Ta to find out more about his life's work.
## What got you into music?
I was born into a musical family. My father and mother worked in a ballet orchestra as a flutist and clarinetist respectively. As a child, I was fortunate to see both my parents in action at symphony concerts and ballet performances.
Under the influence from my family members, who spent much of their day practising, I started my music training on the piano at the age of five, and took violin lessons when I was six. Deeply inspired by the flute sound of James Galway, I began my first flute lesson with my father at the age of 11. It was an exciting journey for me, and I remember wishing I could play like Galway someday.
Share your inspiration for your music/work.
During my teenage years, I preferred playing sonatas and concertos by French composers such as Francis Poulenc and Philippe Gaubert. After enrolling in the New England Conservatory of Music, I later focused on symphonic repertoire for the flute. The rich tone colour, melodies and orchestration ideas from different composers continue to amaze me, even after 24 years of working in an orchestra.
A work day to me is akin to entering a classroom to discover techniques of different composers. Besides classical music, I draw inspiration from a variety of genres, such as pop and jazz, to uncover ideas, develop and improvise.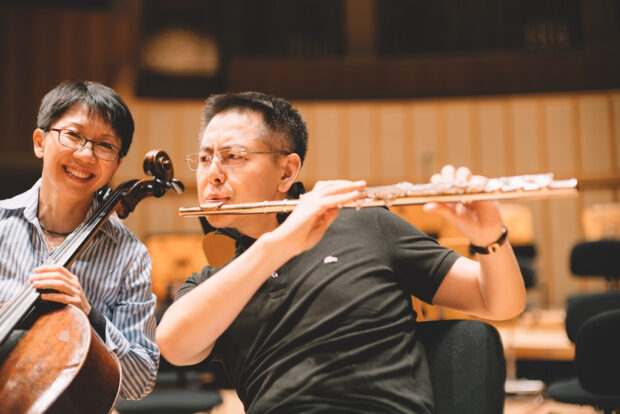 I enjoy the movies and often find myself paying attention to the soundtrack. The ability to connect sound and visuals is incredible, especially how film composer sets the tone and mood for different scenes. In early 2020, my wife Yu Jing and I started a WeChat channel, "Lumino's Art of Flute" (小鲁仔长笛艺术), where I compose soundtracks for the children stories she writes. The channel serves a platform to also share flute techniques and performances.
If there is a piece that could represent who you are, what would that be?
My composition Mongol flute sonata is one that represents me the most. As a half-Mongolian, but one that has never visited Mongolia, I wrote this work to pay tribute to the beautiful blue skies and green pastures I would often dream of. The sonata contains three movements that depict the landscape – Grassland, The Yurt and The Majestic Heroes.
I am also happy to share that Mongol won the Newly Published Music Competition in 2021 at the National Flute Association (NFA) Annual Convention, and was chosen to be one of the NFA Young Artist Competition pieces in 2023.
If you did not become a musician, what would you be right now?
A movie director! I would also love to be part of creating music for my movie. The icing on the cake would be winning an Oscar, and the opportunity to make a witty, hilarious speech on stage 😉
Certainly not what we expected you to say! So, what is one thing you hope your audience would remember about you?
I hope to be remembered for my distinct sound. It is something I have spent a lifetime to form, through countless hours of practice, listening and imagining. I hope this sound is one that remains gold ("金', just like my last name) and wish it would always be unique in my audience's memory.
An advice you would share with the younger you.
Spend more time practising the piano, and become a great pianist, too!
Catch Jin Ta in a free online concert, Flurry of the Flute, available on SSOLOUNGE until 10 August. He will also star in a live performance of Mozart's delightful Flute & Harp Concerto in November 2022, part of the new season that has yet to be announced.