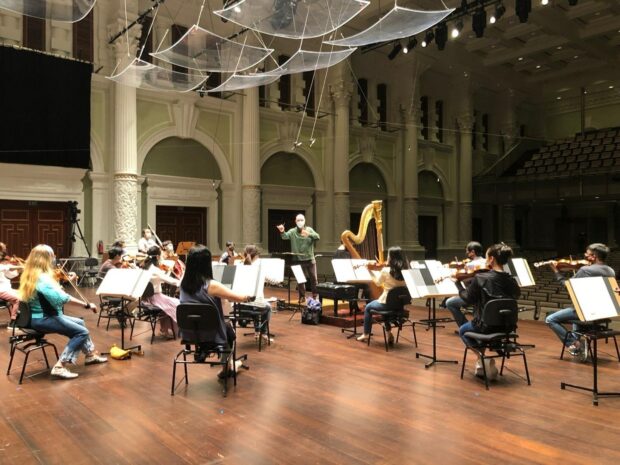 SSO musicians reunited at last for new concerts, compliant with safe distancing guidelines.
This month, for the first time since the end of March when all large gatherings in Singapore were cancelled, SSO musicians could once again gather in different groups, and able to go on stage – safely distanced and masked – to play music together.
After the long hiatus, some members of our percussion section were delighted to be reunited at the Esplanade, with each other and with the tools of their profession (especially the big timpani and other drums!), in early July.
A couple of weeks later from 23 – 26 July, a group of strings musicians met at the Victoria Concert Hall and were joined by new Chief Conductor Hans Graf who was working with an orchestra for the first time since the world succumbed to the coronavirus pandemic.
Yet another group comprising winds, brass and some strings will also work with maestro Graf this week, at the Esplanade. The arrangements for the safe distancing and working in so-called "split teams" have required massive logistical planning for our orchestra management and programming teams.
And the efforts of all these reunions have resulted in some truly beautiful music-making, which will find their way into a number of new recorded concerts.
The first of which you will see this Saturday 1 August at 8pm: Debussy and Dvořák. The programme features SSO Principal Harp, Gulnara Mashurova in Debussy's Danses sacrée et profane for harp & strings (L.103) and the Debussy String Quartet which maestro Graf has adapted for a larger string ensemble. The wind section then takes the stage with Dvořák's Serenade in D minor for wind instruments, cello & doublebass.
We've also been working on something special for Singapore's 55th birthday in August and we can't wait to share it with you!
Under the baton of Darrell Ang, SSO will bring you a showcase of Singapore music and national songs. This year's concert will see the SSO premiere works by three young local composers: Sandra Lim, Jonathan Shin and Tan Yuting. The orchestra will also present the world premiere of Brahman: Kannagi's Realization by Singapore-based veteran composer, John Sharpley featuring the brilliant Bharatanatyam dancer, Kshirja Govind.
Continuing the tradition of performing a different orchestration of the National Anthem each year, the SSO will perform Kelly Tang's 2010 arrangement, re-orchestrated for a smaller orchestra, to comply with current safe distancing rules. 
Don't miss this special National Day celebration, SSO style on Saturday 15 August at 8pm!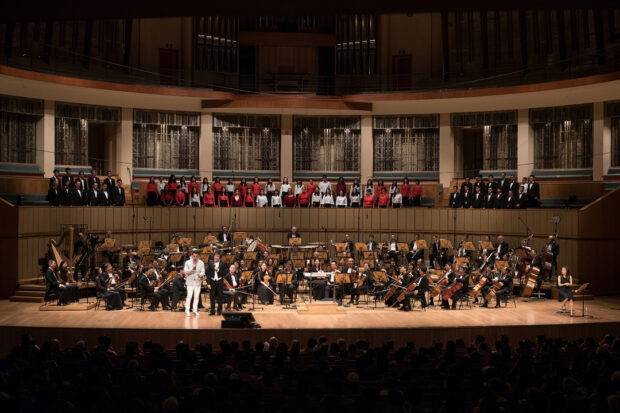 SISTIC Live
Due to on-going COVID-19 venue restrictions, these concerts will be streamed on SISTIC Live. 
DEBUSSY & DVOŘÁK: SERENADE AND DANCE
Date & time: 1 August (Saturday), 8pm
Where to watch: SISTIC Live 
Tickets: Available from 10am on 24 July
Pay-as-you-wish: $10, $20, $30, $50^
SSO NATIONAL DAY CONCERT
Date & time: 15 August (Saturday), 8pm
Where to watch: SISTIC Live 
Tickets:Available from 10am on 4 August
Pay-as-you-wish: $5, $10, $20, $30, $50^  
^before booking fees
Latest News
Latest News
Latest News
Latest News
Latest News
Latest News