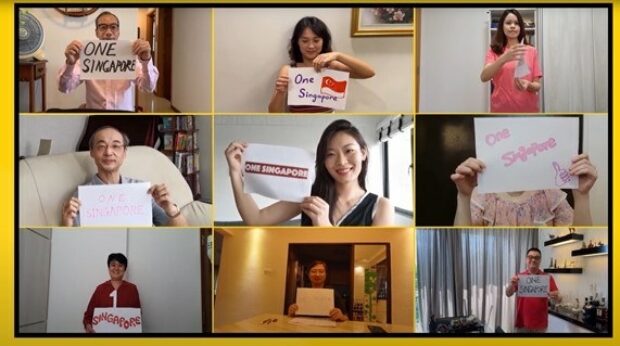 No stage, no problem. With concert halls closed, and working from home the new modus operandi, members of our performing groups are picking up new technical skills, turning their homes into performing and recording studios, and gaining new status as recording and social media stars!
At-home with SSO
One of the latest at-home collaborations by SSO musicians is with the Singapore international Festival of the Arts, in a performance of "One People, One Nation, One Singapore", released on 24 June on YouTube.
The Singapore International Festival of Arts invited the SSO Singapore Symphony Orchestra to present a special version of a familiar national tune, "One People, One Nation, One Singapore" on the occasion of the festival's 30th anniversary. Featuring a swing version of the national favourite by jazz musician Jeremy Monteiro, the video showed domestic scenes of SSO musicians playing their instruments as well as makeshift items around the house — from ceramic cups to chopsticks!
With the pause on large-scale live performances in Singapore, SSO will continue to curate online programmes and perform virtually in the new 2020-21 season.
Singing from home
Likewise, while singing together in groups is still disallowed in Phase 2 of Singapore's Circuit Breaker, our choristers have been singing and recording themselves from home. One such exciting home recording project was a video of the Singapore Symphony Choruses singing "We Will get There" with singer Joanna Dong.
This video has since appeared across Mediacorp TV channels in two different versions over several weeks. The first, an abridged version, was featured in the Gov.sg supported programme, "Stronger as One", which showcased stories of people who were affected by the COVID-19 outbreak and how they overcame the challenges. It also featured a number of SSO string musicians.
A standalone music video of the singalong next premiered on TV on 15 June. The 5-minute music video — with solo lines by singer Joanna Dong, Choral Director Eudenice Palaruan and Choirmaster Wong Lai Foon, with accompaniment by Gabriel Hoe and Shane Thio — was aired on Channel 5, CNA, Channel 8, Channel U, Suria and Vasantham.
SNYO dedicates videos to youth orchestras, essential workers
From home, SNYO members also found time to practise and record videos of themselves performing.
One such recording is "Over The Rainbow", specially dedicated to several youth orchestras around the world that have partnered or hosted with the SNYO in the past. These include the Saxon State Youth Orchestra, which hosted SNYO musicians in an exchange to Germany last year. Due to the pandemic, the German orchestra has had to cancel its orchestra tour to Singapore.
Others include an SNYO percussion ensemble, using hand claps (in a body percussion piece) to perform "Let's Give Them A Hand" by Francis McBeth, in gratitude to all the essential workers in Singapore. In June, SSO bassoonist and SNYO tutor Christoph Wichert had fun with a rendition of "The Avengers" theme, featuring several SNYO bassoonists and alumni.
For all us at the SSO, the music goes on. Together we will weather the challenges ahead, and we hope to be reunited with you soon!
Latest News
Latest News
Latest News
Latest News
Latest News
Latest News