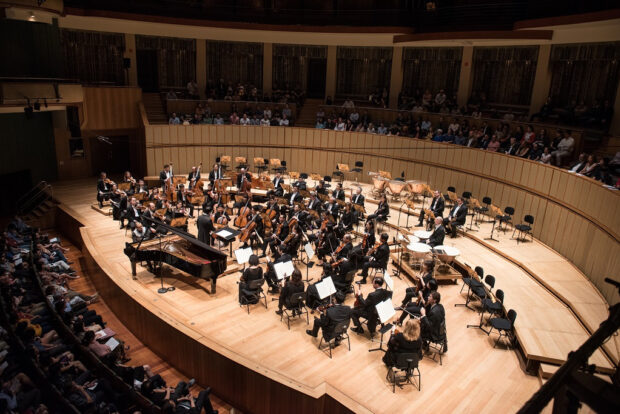 Singapore's vibrant arts scene today would not be possible without the generosity of arts patrons over the years. The Singapore Symphony Orchestra (SSO) is one beneficiary of arts patronage. Our most recent achievement, clinching third place in Gramophone Magazine's 2021 Orchestra of the Year Award, was only possible after building our audio recording experience over the short 42-year history of the orchestra, through the support of our patrons who believed in us since our founding. This good news also offered Singapore a bright spot amid the gloom of the long-drawn pandemic. Thank you to all our patrons and supporters who have voted for us!
Instituted in 1983, the Patron of the Arts Awards represents the national level recognition to organisations and individuals who have contributed significantly towards cultural and artistic activities in Singapore. Despite the profound impact of COVID-19, nearly $40 million was donated last year to strengthen the arts sector in Singapore.
The Singapore Symphony Group (SSG) congratulates our donors who were among the 196 individuals and 68 organisations acknowledged by the National Arts Council at this year's Patron of the Arts Awards, held online on 17 September 2021.
Thank you for giving to SSG generously in the past year through financial means, resources, skills and time. Without your support, the work of the Group would not be possible.
SSO SUPPORTERS HONOURED AT PATRON OF THE ARTS AWARDS 2021
DISTINGUISHED PATRON OF THE ARTS AWARD (ORGANISATIONS)
United Overseas Bank Ltd – SSO Concerto Circle 2020
DISTINGUISHED PATRON OF THE ARTS AWARD (INDIVIDUALS)
Mr & Mrs Choo Chiau Beng – SSO Overture Patron 2020
Mr & Mrs Goh Yew Lin – SSO Maestro Circle 2020
Kris Foundation - Kris Tan Lay Peng – SSO Concerto Circle 2020
PATRON OF THE ARTS AWARD (ORGANISATIONS)
Hong Leong Foundation – SSO Overture Patron 2020
Keppel Corporation – SSO Overture Patron 2020
Lee Foundation Singapore – SSO Concertmaster Circle 2020
Temasek Foundation – SSO Maestro Circle 2020
PATRON OF THE ARTS AWARD (INDIVIDUALS)
C&A Firmenich – SSO Symphony Circle 2020
Marie Elaine Teo – SSO Rhapsody Patron 2020
Paige Parker & Jim Rogers - SSO Concerto Circle 2020
FRIEND OF THE ARTS AWARD (ORGANISATIONS)
BINJAITREE – SSO Overture Patron 2020
Credit Suisse AG, Singapore – SSO Symphony Circle 2020
John Swire & Sons (S.E.Asia) Pte Ltd – SSO Concertmaster Circle 2020
SMRT Corporation – SSO Official Outdoor Media Partner
Stephen Riady Group of Foundations – SSO Overture Patron 2020
Tantallon Capital Advisors Pte Ltd – SSO Symphony Circle 2020
FRIEND OF THE ARTS AWARD (INDIVIDUALS)
Alan Chan – SSO Overture Patron 2020
Andreas & Doris Sohmen-Pao – SSO Concerto Circle 2020
Andress Goh Lai Yan – SSO Overture Patron 2020
Prof Arnoud De Meyer – SSO Overture Patron 2020
Dr Beh Swan Gin & Maisy Koh – SSO Overture Patron 2020
Prof Cham Tao Soon – SSO Overture Patron 2020
Prof Chan Heng Chee – SSO Overture Patron 2020
Chng Hak-Peng – SSO Concerto Circle 2020
Devika & Sanjiv Misra – SSO Concerto Circle 2020
Dorian Goh Ka Sin- SSO Rhapsody Patron 2020
Dr Eddy Ooi – SSO Overture Patron 2020
Geoffrey & Ai Ai Wong – SSO Concerto Circle 2020
Prof Gralf & Silvia Sieghold – SSO Overture Patron 2020
Ho Ching – SSO Concerto Circle 2020
Leila Cheung & Siew Thim Chooi – SSO Concerto Circle 2020
Leong Wai Leng – SSO Overture Patron 2020
Lin Diaan-Yi – SSO Overture Patron 2020
Lisa & Hervé Pauze - SSO Rhapsody Patron 2020
Mavis Lim Geck Chin – SSO Overture Patron 2020
Prof & Mrs Lim Seh Chun – SSO Overture Patron 2020
S&Y Lo – SSO Overture Patron 2020
Dr Thomas Zuellig & Mary Zuellig – SSO Concerto Circle 2020
Vivian P J Chandran – SSO Overture Patron 2020
Vivien Goh – SSO Overture Patron 2020
Wong Hong Ching- SSO Overture Patron 2020
SUPPORTER OF THE ARTS AWARDS (ORGANISATIONS)
Singapore Airlines Limited – SSO Official Airline