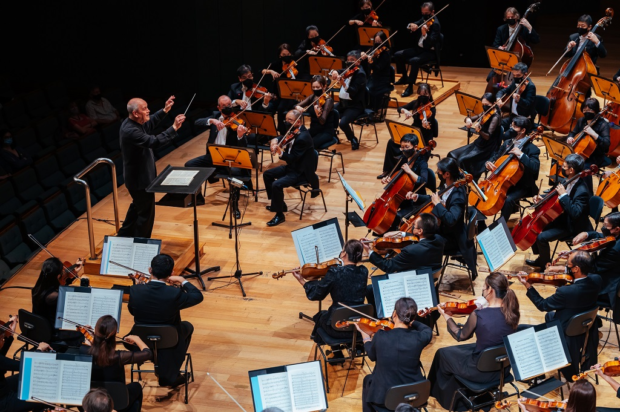 The Patron of the Arts Awards acknowledge the tremendous support from individuals and organisations towards the vibrant arts scene in Singapore. In 2021, over $32 million was donated to boost the arts and culture sector in Singapore.
The 39th edition of POAA held on 25 August 2022 acknowledged 244 individuals and 79 organisations for their contribution. As a beneficiary of arts patronage in Singapore, we extend appreciation to donors who have unstintingly supported our cause, even as the impact of the pandemic was deeply felt.
Our extensive work through concert experiences, community programmes and digital projects would not have been possible without our supporters.
Our heartfelt congratulations to our donors who were among the individuals and organisations acknowledged by the National Arts Council at this year's POAA.
SSO SUPPORTERS HONOURED AT PATRON OF THE ARTS AWARDS 2022
Maestro Circle
Mr & Mrs Goh Yew Lin - Distinguished Patron of the Arts Award (Individual)
Temasek Foundation - Patron of the Arts Award (Organisation)
Concertmaster Circle
Yong Hon Kong Foundation – Danny Yong - Distinguished Patron of the Arts Award (Individual)
Symphony Circle
Chng Hak-Peng - Patron of the Arts Award (Individual)
Prof Arnoud De Meyer - Patron of the Arts Award (Individual)
John Swire & Sons - Friend of the Arts Award (Organisation)
The New Eden Charitable Trust - Friend of the Arts Award (Organisation)
Concerto Circle
Dennis Au & Geraldine Choong - Friend of the Arts Award (Individual)
Chua Khee Chin - Friend of the Arts Award (Individual)
Andress Goh - Friend of the Arts Award (Individual)
Holywell Foundation - Friend of the Arts Award (Organisation)
Devika & Sanjiv Misra - Friend of the Arts Award (Individual)
Stephen Riady Group of Foundations - Distinguished Patron of the Arts Award (Individual)
Geoffrey & Ai Ai Wong - Friend of the Arts Award (Individual)
Yong Ying-I - Friend of the Arts Award (Individual)
Dr Thomas Zuellig & Mary Zuellig - Friend of the Arts Award (Individual)
Overture Patron
BINJAITREE - Friend of the Arts Award (Organisation)
Alejandro Cavazos - Friend of the Arts Award (Individual)
Prof Cham Tao Soon - Friend of the Arts Award (Individual)
Prof Chan Heng Chee - Friend of the Arts Award (Individual)
Alan Chan - Friend of the Arts Award (Individual)
Vanessa & Darren Iloste - Friend of the Arts Award (Individual)
JCCI Singapore Foundation - Friend of the Arts Award (Organisation)
Lee Li Ming - Friend of the Arts Award (Individual)
Leong Wai Leng - Friend of the Arts Award (Individual)
Michael Lien - Friend of the Arts Award (Individual)
Prof & Mrs Lim Seh Chun - Friend of the Arts Award (Individual)
Marina Bay Sands - Patron of the Arts Award (Organisation)
Dr Eddy Ooi - Friend of the Arts Award (Individual)
David Ramli - Friend of the Arts Award (Individual)
Alexey Rumyantsev - Friend of the Arts Award (Individual)
Priscylla Shaw - Friend of the Arts Award (Individual)
Prof Gralf & Silvia Sieghold - Friend of the Arts Award (Individual)
Tan Meng Cheng Ivan - Friend of the Arts Award (Individual)
Wong Hong Ching - Friend of the Arts Award (Individual)
Catherine Poyen & David Zemans - Friend of the Arts Award (Individual)
Serenade Patron
United Overseas Bank Ltd - Distinguished Patron of the Arts Award (Organisation)
Marie Elaine Teo - Friend of the Arts Award (Individual)
Rhapsody Patron
Dorian Goh - Friend of the Arts Award (Individual)
Kris Tan Lay Peng – Kris Foundation - Distinguished Patron of the Arts Award (Individual)
Aileen Tang - Friend of the Arts Award (Individual)
Prelude Patron
Vivian P J Chandran - Patron of the Arts Award (Individual)
Duncan Kauffman - Friend of the Arts Award (Individual)
Preetha Pillai - Friend of the Arts Award (Individual)
Marcel Smit & Hanneke Verbeek - Patron of the Arts Award (Individual)
Official Outdoor Media Partner
SMRT Corporation - Friend of the Arts Award (Organisation)
In-Kind Sponsor
Suntec Singapore Convention & Exhibition Centre - Friend of the Arts Award (Organisation)
Latest News
Latest News
Latest News
Latest News
Latest News
Latest News