Young Violin Virtuoso Chloe Chua Headlines SSO's Concerts In 2023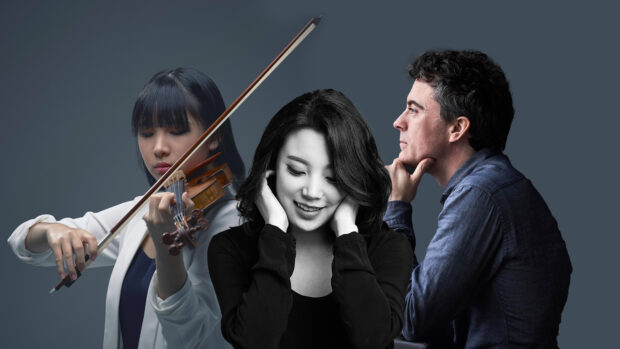 A memorable musical experience awaits in 2023 as the SSO presents concerts featuring Artist-In-Residence Chloe Chua, a Gala concert showcasing the artistry of soprano Sumi Hwang, acclaimed pianist Paul Lewis, a joint fundraising concert with the Foundation of Rotary Clubs Singapore (FRCS) and a slew of free community concerts
Singapore, 3 January 2023 – The Singapore Symphony Orchestra (SSO) has programmed some not-to-be-missed concerts in 2023, starting with performances by Artist-In-Residence Chloe Chua as she presents a new take on Mozart's Violin Concerto No. 4 in Chloe Chua Plays Mozart 4 on 12 and 13 January, and Mozart's Violin Concerto No. 3 in Chloe Chua Plays Mozart 3 on 31 March and 1 April, with the SSO's Music Director Hans Graf at the helm of both concerts. Fans of Chloe who have longed to watch the young Singaporean virtuoso take on a Romantic work should not miss Bruch Violin Concerto and Mahler 5 on 2 and 3 March, where she will perform Bruch's famous Violin Concerto. Mahler's mammoth Fifth Symphony concludes the concert, led by acclaimed Dutch-Maltese Maestro Lawrence Renes.
For those who missed Chloe Chua's beautiful performance of Vivaldi's Four Seasons and Locatelli's spectacularly difficult Harmonic Labyrinth last year, here's your chance to catch the filmed concert in The Four Seasons with Chloe Chua, premiering on SSOLOUNGE on 16 March. The SSO will also be launching its highly-anticipated album of this programme on 10 March. The CD album by premier Dutch label Pentatone Records will be available on sale at an exclusive early Singapore release at the Bruch Violin Concerto and Mahler 5 concert on 2 and 3 March. This is Chloe Chua's debut international release, produced by the Singapore Symphony Orchestra and msm-productions (Singapore).
Lovers of large-scale Romantic works will be glad that the SSO is performing Richard Strauss' valedictory Death and Transfiguration, selections from Mahler's Das Knaben Wunderhorn and Rückert Lieder featuring rising South Korean soprano Sumi Hwang, and Brahms's Third Symphony in SSO GALA: Mahler's Wunderhorn with Hans Graf and Sumi Hwang on 20 January, conducted by Maestro Hans Graf.
Acclaimed pianist Paul Lewis is set to enchant the audience in Paul Lewis Plays Mozart Piano Concerto 25 with this popular favourite on 16 and 17 February. The concert, which is dedicated to SSO Founding Patron Dr Goh Keng Swee, finishes with veteran American conductor Robert Spano and the SSO performing Schumann's exultant Rhenish Symphony. Paul Lewis will return for a recital in VCHpresents Chamber: Schubert's Piano Sonatas with Paul Lewis on 18 February where he will perform three piano sonatas by Schubert.
On 24 and 25 February, join renowned pianist Chiyan Wong as he performs Mozart's Piano Concerto No. 17 with preeminent Chinese-American conductor Xian Zhang in a programme titled Mozart's Starling, where Mozart's stately 39th Symphony and the intriguing L'Éloignement for string orchestra by contemporary Chinese-French composer Qigang Chen will complete the evening's programme. The concert on 24 February marks the second SSO-FRCS Joint Fundraising Concert, in conjunction with World Understanding and Peace Day, widely commemorated by Rotarians. The continued collaboration between both charities aims to raise $200,000, with proceeds to be assigned to SSO and FRCS equally.
Experience a repertoire of popular classical tunes in the month of March as Associate Conductor Rodolfo Barráez, together with the SSO, presents a similar line-up of pieces for SSO Lunchtime Concert on 9 March at the Victoria Concert Hall, SSO In Your Community on 10 March at The Republic Cultural Centre Theatre, Republic Polytechnic, and Music in the Meadow on 12 March at The Meadow, Gardens by the Bay. Admission to these concerts is free, with registration required for the SSO Lunchtime Concert and the SSO In Your Community concert.
On 18 and 19 March, prepare for a fun-filled time with the family and kids in Concerts For Children: Journey Around The World as conductor and presenter Jessica Gethin and the SSO take the audience on a journey to explore the soundscapes of music from across the globe.
FULL PRESS RELEASE
Download the full press release HERE
Latest News
Latest News
Latest News
Latest News
Latest News
Latest News