Music is our work, and our work is music
Create the SSO story with us. Revolutionise live performances. Join the Singapore Symphony Group and work with one of the leading arts management employers in Singapore.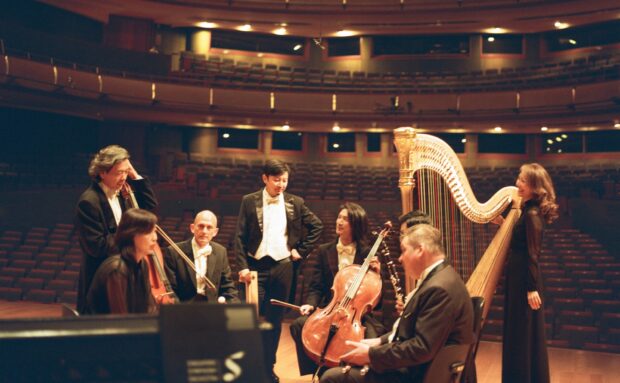 Job Openings by Category
One of Asia's leading orchestras, the SSO provides artistic inspiration through its recordings, international tours, outreach and education, chamber music, and over 60 concerts a year. Under the baton of Music Director Hans Graf, the SSO performs at the world-renowned Esplanade Concert Hall and at its long-term home, the Victoria Concert Hall, in Singapore.
The SSO invites applications from outstanding musicians for the following positions, where available.
The Singapore Symphony Orchestra (SSO) is conducting an international search for a Concertmaster.
The SSO is Singapore's flagship orchestra and founded in 1979. Over the last 40 years, the full-time professional orchestra has grown in stature and has collaborated with great artistes, such as Neeme Järvi, Vladimir Ashkenazy, Lang Lang, Yo-Yo Ma, Diana Damrau, Janine Jansen, Leonidas Kavakos, Gil Shaham and Martha Argerich. The SSO has toured regularly, with invitations to the BBC Proms, the Prague Spring International Music Festival, and the Dresden Music Festival.
At home, the SSO plays regularly at the Esplanade Concert Hall, Singapore's premier performance venue, while more intimate concerts are held at the historic Victoria Concert Hall. The well-loved national orchestra also makes community appearances and plays a significant role in concerts for the young.
Interested candidates should possess musicianship of the highest level, to lead the Orchestra to greater artistic heights. The successful candidate may:
Be associated with a named Chair
Receive an instrument loan from the orchestra's donors
Be recommended for teaching positions
Applicants are asked to submit the following for consideration:
A cover letter outlining your interest in the position
A current CV (including education, professional experience and two referees)
Audio and/or video of recording of solo works (made within the last 2-3 years)
Video recording of works in a chamber setting (we accept links to high-quality web videos, with indication of the year of recording)
Video recording of performance with an orchestra (we accept links to high-quality web videos, with indication of the year of recording)
The above materials should be submitted to hr@sso.org.sg.
As one of the leading arts administration employers in Singapore, the Singapore Symphony Group (SSG) manages the Singapore Symphony Orchestra (SSO), the Singapore National Youth Orchestra (SNYO), Singapore Symphony Choruses, the VCHpresents chamber concert series, the National Piano & Violin Competition, and more. The Company's mission is to create memorable shared experiences with music. Through the Singapore Symphony Orchestra and its affiliated performing groups, we spread the love for music, nurture talent, and enrich our diverse communities.
We welcome passionate individuals to apply for the following positions, where available.
The Assistant Director heads the SNYO team and is a key member of the SSG senior management team. They oversee day-to-day operations, annual programme planning, as well as long-term strategic shifts in alignment with the Singapore Symphony Group strategic priorities.
The Assistant Director reports to the Director (Community Impact) and supervises the manager and senior executives of SNYO.
RESPONSIBILITIES
Oversee planning and operations of the SNYO including budgeting, reporting, and rehearsal management
Provide strong leadership to the team, including delegating tasks to team and empowering the team to contribute to planning, ensuring performance accountability, and supporting their professional development needs and aspirations
Craft the artistic season and curriculum of the SNYO and SNYS in consultation with the Conductors
Oversee the management of SNYO tutors, including the selection of tutors and rostering, growing the pool of tutors, and strengthening SNYO's professional relationships with them
Strengthen SNYO member engagement and ownership of the programme, including collecting regular feedback and establishing avenues for members to contribute to the collective experience and have a sense of empowerment and belonging
Organise the team for auditions and assessment panels
Lead strategic initiatives involving recruitment, fundraising, branding, parent engagement and stakeholder communication
Implement new initiatives, collaborations and partnerships that advance the mission of the SNYO and align to SSG Strategy
Organise secretariat support for SNYO Committee meetings (3 times a year), including agenda-planning and note-taking
Contribute towards SSG projects as assigned
REQUIREMENTS
Bachelor's Degree and above and/or extensive experience in managing youth orchestras
At least 8 years' experience working with young people and/or orchestras
Strong track record as a team leader will be an advantage
People-centric leadership with an emphasis on empowering team members to succeed and building shared commitment towards organisational goals and values
Excellent interpersonal and communication skills with the ability to interact and manage issues/ conflict resolutions effectively at all levels
Ability to work effectively with other departments to identify and achieve shared goals
Please provide a comprehensive resume and cover letter also stating current and expected salaries to hr@sso.org.sg.
Kindly note that only shortlisted applicants will be notified.
This Executive position is part of the Development team, which aims to enhance the financial resources of the Singapore Symphony Group. The main responsibilities of the Executive, Development are event management and coordination for donor and sponsor-related events.
Reports to: Manager, Development
RESPONSIBILITIES
Plan and organise donor/sponsor stewardship, prospecting, and/or fund-raising events within stipulated budget and timeline
Coordinate event communications such as invitations, eDMs, RSVPs
Venue sourcing, site recce, and booking of venue
Liaise with, and engage musicians and/or speakers where applicable
Negotiate with vendors to achieve the most favourable terms for the company
Coordinate logistics support and set-up prior to event
Complete final checks and resolve any last minute issues
Ensure smooth on-site operations during events through close collaboration with multiple stakeholders and partners, and tie up loose ends after the event
Draft/compile simple post-event summaries
Assist in any other development, promotional, or publicity events for the company
Undertake any other tasks assigned by the team
REQUIREMENTS
Diploma and above, preferably in Arts Management or Event Management
Relevant internship, part-time, or related work experience in event planning or event coordination, preferably in an arts environment
Have a strong command of both written and spoken English
Fluency in other widely used languages is an advantage
Proficient in MS Word, Excel and PowerPoint
Possesses good organisational, negotiating, and multitasking skills
Prior experience in event budgeting will be an advantage
Be able to work both independently and as a team to meet tight deadlines
Be meticulous, professional, and customer-service oriented
Flexibility to work some evenings, weekends, and holidays during events/concerts
Interest in classical music and/or the performing arts, though not essential, would provide a source of self-motivation to the candidate
Please provide a comprehensive resume and cover letter also stating current and expected salaries to hr@sso.org.sg.
Kindly note that only shortlisted applicants will be notified.
The Stage Manager (SM) is responsible for the efficient and smooth operation of Singapore Symphony Orchestra (SSO) rehearsals, recordings and performances, creating the best possible environment for SSO musicians to rehearse and perform. The SM reports to the Production Manager.
RESPONSIBILITIES
Plan, prepare and coordinate staging and production requirements for all SSO rehearsals, recordings and performances
Ensure backstage facilities are in order for use by conductors and musicians
Work with venue technicians and crew to ensure suitable working conditions on and off stage
Coordinate and execute any stage moves as required
Manage backstage operations during rehearsals, recordings and performances
Call technical cues as required
Coordinate and oversee the movement of equipment and instruments to various venues as required for rehearsals, recordings and performances
Maintain inventory of technical equipment and instruments, and help to arrange for repairs when required
Perform other production duties as they relate to the Singapore Symphony Group and SSO
REQUIREMENTS
Minimum Diploma in Arts Management/Technical (Theatre) Production or similar qualification
Individuals with at least three years of industry work experience preferred
Flexibility to work nights and weekends when needed
Experience and knowledge of technical production or orchestra operations is required
Effective oral/written communication skills and supervisory skills
Proficiency in computing and computer software, e.g. Microsoft Office suite and CAD software
Team player and ability to work well with a variety of personalities
Experience and ability to read music, with an interest in classical music is a plus
Please provide a comprehensive resume and cover letter with current and expected salaries to hr@sso.org.sg.
Kindly note that only shortlisted applicants will be notified.
Get involved and experience what it is like working with the Singapore Symphony Group. Email internship@sso.org.sg for an internship today!