SSO Unveils Exciting Line-Up For 2023/2024 Season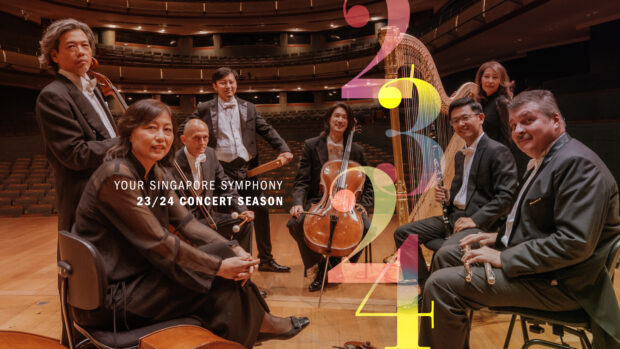 The new season will kick off on a high note with SSO Pops: The Music of Hans Zimmer in July, followed by a slew of exceptional performances including SSO National Day Concert in August as well as concerts in the upcoming months by acclaimed virtuosos including Mischa Maisky, Leonidas Kavakos, Bomsori Kim, Olga Peretyatko, Rudolf Buchbinder, Garrick Ohlsson, Bruce Liu and more
Singapore, 4 May 2023 — The Singapore Symphony Orchestra unveils an exciting line-up of its 2023/2024 season bringing audiences compelling and memorable musical experiences from July 2023 to June 2024.
Kicking off the new season in July, SSO Pops: The Music of Hans Zimmer, conducted by Gerard Salonga, will spotlight iconic works by Zimmer, who is regarded as one of the most admired film composers of our time. Inspired by the time-honoured traditions of The Last Samurai, the cosmic journey of Interstellar, and the unsung heroism of The Dark Knight. Dedicated to Raffles Hotel Singapore, SSO's Official Hotel, this performance is one not-to-be-missed.
Classical music lovers can look forward to concerts featuring renowned guest soloists such as Israeli cellist Mischa Maisky, Greek violinist Leonidas Kavakos, South Korean violinist Bomsori Kim and more, plus enthralling performances led by SSO's Music Director Hans Graf and Associate Conductor Rodolfo Barráez, as well as acclaimed guest conductors such as Han-Na Chang, Yue Bao, Jukka-Pekka Saraste, Mario Venzago, Gerard Salonga, Andrew Litton and Pierre Bleuse.
In the months of July, March and May, enjoy free concerts across the island in the SSO Lunchtime Concerts, SSO In Your Community, Temasek Foundation SSO Symphony In The Gardens, Temasek Foundation SSO Music In The Meadow, and SSO Mother's Day Concert.
Families with kids can look forward to fun and interactive programmes like SSO Babies' Proms, and SSO's Concerts For Children series, staged during the school holidays, with titles such as Little Red Riding Hood, Sleepover at the Museum and the classic Carnival of the Animals to look forward to.
Into its sixth installment, the Temasek Foundation SSO National Day Concert in August will showcase Singaporean composers like Zechariah Goh, Sulwyn Lok, Kelly Tang, Chua Jon Lin and Felix Phang, amongst others. Led by Singaporean conductor Ng Tianhui, the performance will feature the SSO, Singapore Symphony Chorus, Singapore Symphony Youth Choir and Singapore Symphony Children's Choir. The concert will be livestreamed free on SSO's YouTube channel.
The new season sees Singapore's brightest violin star Chloe Chua extend her role as SSO's Artist-In-Residence for a second year. Chloe will perform in four concerts throughout the season, including a chamber recital.
Other notable works that will be showcased in the new season include the spectacular tone poems of Richard Strauss, Schubert's Great Symphony, Berlioz's Symphonie fantastique, Brahms's Requiem, Tchaikovsky's Symphonies 4, 5 and 6, Mozart's Clarinet Concerto, Bach's Brandenburg Concertos, all five Beethoven Piano Concertos, Rachmaninoff's Piano Concertos Nos. 2 and 3 and Chopin's Piano Concertos Nos. 1 and 2.
July 2023
The new season is off to a resounding start on 14 and 15 July with SSO Pops: The Music of Hans Zimmer, featuring iconic works from one of the most admired film composers of our time. Conducted by Gerard Salonga, audiences can look forward to music from films like Interstellar, Inception, Man of Steel, The Da Vinci Code, Madagascar, Gladiator and more.
The month of July will offer a handful of free concerts, starting with the popular SSO Lunchtime Concert on 19 July, which will see Associate Conductor Rodolfo Barráez leading the orchestra for an hour's worth of classical favourites at the Victoria Concert Hall. Admission is free on a first-come, first-served basis. This is followed by SSO In Your Community on 21 July – a free concert held at Anglo-Chinese School (Independent), also led by Rodolfo.
No stranger to our outdoor concerts, Rodolfo will once again lead the orchestra at the Singapore Botanic Gardens for Temasek Foundation SSO Symphony In The Gardens on 22 July. Gather your loved ones and furry friends for an evening filled with nature and classical music performed live by a full orchestra.
The month wraps up on a high note with Chloe Chua and He Ziyu on 27 and 28 July. Led by Music Director Hans Graf, witness the impeccable talent of SSO Artist-In-Residence Chloe Chua as she performs Mozart's Sinfonia Concertante, joined by another youthful virtuoso, He Ziyu. Maestro Hans Graf ramps up the stakes as the SSO chronicles Richard Strauss's ground-breaking orchestral spectacle, Ein Heldenleben (A Hero's Life) under his baton.
August 2023
Another exciting month awaits starting with Seika Ishida Plays Chopin on 4 and 5 August. Having received much praise in her debut with the SSO in 2022, the award-winning Japanese pianist returns to play Chopin's Piano Concerto No. 2, a work of refined nostalgia to match her exquisite command of the keyboard. To complete the evening, Maestro Hans Graf and the SSO will showcase Schubert's Great Symphony, an enduring statement of musical nobility.
The Temasek Foundation SSO National Day Concert, an annual celebration of Singapore and its musical identity, returns on 13 August at the Esplanade Concert Hall for its sixth edition. Conducted by Singaporean conductor Ng Tianhui, the performance is a showcase of Singaporean capability in every aspect of music, spotlighting Singaporean composers and artists.
A notable highlight this month, the Three Continents Cello Concerto on 19 August will mark the Asian premiere of the Drei Kontinente Cello Concerto. This collaboration by acclaimed contemporary composers Nico Muhly, Sven Helbig and Zhou Long, co-commissioned by the SSO, will be championed by its dedicatee, renowned cellist Jan Vogler. The performance, led by conductor Yue Bao, will also feature Rachmaninoff's thrilling Symphonic Dances.
On 20 August, Singaporean organist Anne Maria Lim and electronic music master Benjamin Ang of Cosmic Armchair and NUS Electronic Music Lab will come together for VCHpresents Organ: Acoustic Shock – An Organ and Electronic Music Spectacular. Witness what the power of electronic music and the pipe organ can do to charge up the concert hall as they present works by composers Larry King and special renditions of selected local songs.
To round up a music-filled month, Bliss – Mozart's Clarinet Concerto on 25 and 26 August will see British clarinettist Julian Bliss team up with the SSO under the baton of Swiss maestro Mario Venzago to present works from three of the finest composers at the turn of the 18th century: Rossini, Mozart and Haydn.
September 2023
On 2 September, SSO Artist-In-Residence Chloe Chua stars in Chloe Chua Plays Paganini where she is set to dazzle audiences with her performance of Violin Concerto No. 1 by Paganini, a composer famously known for impossible feats on the violin. That's not all – in the second half of the concert, the Singapore Symphony Chorus and the Singapore Symphony Youth Choir will perform Debussy's Nocturnes and Vaughan Williams's Toward The Unknown Region, a humanistic choral inspiration celebrating the spirit of adventure and discovery.
On 9 and 10 September, Concerts for Children: Little Red Riding Hood makes for the perfect September school holiday activity for the whole family. Let the SSO, under the baton of Associate Conductor Rodolfo Barráez, and the actors of Dandi Productions show you how Little Red thwarts the Big Bad Wolf to save the day with lively theatre, music and bold costumes.
Gear up for an inspiring evening on 12 and 13 September as Shanghai-born Singaporean pianist Yao Xiao Yun takes the stage for VCHpresents Intimate Moments: 乐享时光: 琴云秋乐 Nocturne. Hear her thoughts on the piano as the anchor in chamber music, a genre best enjoyed amongst friends and witness the 2005 National Piano & Violin Competition First Prize Winner in action as she performs with musicians of the SSO at the Victoria Concert Hall Dance Studio. 
This year's President's Young Performers Concert on 23 September will shine the spotlight on multi award-winning pianist Hao Jia as he performs Rachmaninoff's popular Third Piano Concerto. Mendelssohn's popular Scottish Symphony makes up the second half of this concert directed by Associate Conductor Rodolfo Barráez.
Fans of the cello will want to bookmark SSO Gala: Mischa Maisky and Han-Na Chang, happening on 29 and 30 September. A marvellous showcase for one of the most celebrated cellists today, Mischa Maisky will perform Saint-Saëns's uplifting Cello Concerto No. 1. Joining him and the SSO is the charismatic South Korean conductor Han-Na Chang, a famed cellist herself, who will also direct Wagner's serene Siegfried Idyll and Mozart's splendid Jupiter Symphony.
October 2023
The month is off to an insightful start with Unboxing the Organ with Dr Phoon Yu and the Lorong Boys on 1 October as organist Phoon Yu and acclaimed Singaporean band The Lorong Boys teach you all about the true meaning of music history, Singapore style. From Bach to the Beatles, Mozart to Metallica, and Strauss to Sambal, there is bound to be something for everyone to enjoy.
On 5 October, Heroic Tales of Richard Strauss, led by Music Director Hans Graf, will see the SSO bring to life the merry misadventures of the prankster Till Eulenspiegel and the fantastic escapades of the would-be knight, Don Quixote, with the latter featuring SSO Principal Cello/The HEAD Foundation Chair Pei-Sian Ng and Principal Viola Zhang Manchin.
The SSO is delighted to restage last year's sold-out Babies' Proms programme, in response to popular demand. Introduce your little ones to the wonderful world of music through SSO Babies' Proms on 7 and 8 October. Hosted by presenter William Ledbetter, affectionately known as Uncle Bill, the fun and interactive programme will not only take parents and kids on a journey to discover and learn all about the orchestra and the various instruments, it is also bound to get them out of their seats and moving along to the music.
SSO Gala: Hans Graf and Leonidas Kavakos on 13 and 14 October will see the famed Greek violin virtuoso perform Tchaikovsky's glorious Violin Concerto. The music of the ever-popular Czech composer Dvořák bookends this concert – four selections from his picturesque Legends for orchestra and the lyrical Sixth Symphony.
Another rare opportunity to catch Leonidas Kavakos in action, VCHpresents Chamber: Leonidas Kavakos in Recital on 15 October will feature some of the most exquisite pieces by the likes of Beethoven and Ravel.
On 20 October, join British violinist Chloë Hanslip and American maestro Andrew Litton as they present Bennett Violin Concerto and Tchaikovsky 4, featuring the Asian premiere of American composer Robert Russell Bennett's Violin Concerto followed by Tchaikovsky's tumultuous symphonic masterpiece, the Fourth Symphony.
Catch them again on 27 October for Duke Violin Concerto and Tchaikovsky 6 in the Asian premiere of Vernon Duke's Violin Concerto and Tchaikovsky's epic Pathétique Symphony (No. 6).
The pipe organ has a unique place in haunting harmonies, so don't miss VCHpresents Organ: A Haunted Halloween Hymn on 28 and 29 October. The voices of the Singapore Symphony Chorus will fill the Victoria Concert Hall with the music of Dan Forrest, Wojciech Kilar, Maurice Duruflé and more. Join them and returning Halloween host, organist Loraine Muthiah, as they raise the spirits of music from beneath the scores. 
November 2023
Delve into the world of Baroque music on 2 and 3 November as Andrew Arthur, Associate Director and harpsichordist of the UK's renowned period ensemble, The Hanover Band, leads the SSO in two VCHpresents Baroque Festival programmes: Bach's Brandenburg Concertos Part I and Part II -– some of the finest music ever written.
On 10 and 11 November, let SSO Artist-In-Residence Chloe Chua transport you to scenic China with her performance of the exquisite Butterfly Lovers Violin Concerto by Chinese composers He Zhanhao and Chen Gang. Led by Associate Conductor Rodolfo Barráez, the concert begins with the soulful warmth of Sunshine Over Tashkurgan and ends with the sunlit exaltation of Beethoven's spirited Eighth Symphony.
Treat the family to an afternoon of live entertainment and music on 17 and 18 November as Temasek Foundation SSO Concerts for Children: Carnival of the Animals makes a comeback at the Victoria Concert Hall. The delightfully vivid Carnival of the Animals has entertained generations of music lovers, both young and old. Hailing from Canada, L'Arsenal à Musique will lend its theatrical talents to join the SSO in presenting this fun-filled concert for children.
On 23 and 24 November, award-winning Canadian pianist Bruce Liu will be in town for Chopin and Beethoven – Bruce Liu and Jukka-Pekka Saraste where he will perform Chopin's Piano Concerto No. 1. Prominent Finnish maestro Jukka-Pekka Saraste also leads the SSO in Schoenberg's eye-opening Chamber Symphony No. 2 and Beethoven's First Symphony.
December 2023
With a distinguished career spanning over 60 years, Austrian pianist Rudolf Buchbinder is a legend of our time. Catch him live in action as both piano soloist and conductor in two back-to-back concerts on 8 and 9 December for Beethoven's Piano Concertos 2 & 3 and Piano Concertos 1 & 4 respectively. Fuelled by his lifelong dedication to Beethoven, Buchbinder is a unique fount of wisdom on the great composer's music.
Rudolf Buchbinder caps his visit to Singapore on 10 December with VCHpresents Chamber: Moonlight, Pathétique and Appassionata, showcasing some of the most celebrated piano sonatas by Beethoven.
A perfect way to add cheer to your year-end festivities, SSO Christmas Fundraising Concert, led by Associate Conductor Rodolfo Barráez on 14 and 15 December, will see the Singapore Symphony family dress the stage with musical joy and blessed harmonies for the yuletide season.
January 2024
Two of Singapore's finest young musicians, violinist Chloe Chua and organist Isaac Lee , will come together on 5 and 6 January for VCHpresents Chamber: Chloe and Isaac Go Baroque, where they will unveil a treasure trove of rare Baroque gems including pieces by Vitali, Tartini, and Locatelli. Audiences can look forward to virtuoso displays of both technical finesse and soulful emotion.
Over two weekends in January, SSO Music Director Hans Graf leads two back-to-back tributes to the music of Rachmaninoff. On 12 and 13 January, veteran American pianist Garrick Ohlsson stars in Rachmaninoff's Piano Concerto 2 in a programme with the composer's Symphony No. 2.
On 18 and 19 January, South Korean pianist Jae-Hyuck Cho is the soloist in Rachmaninoff's Piano Concerto 3. This is paired with Rachmaninoff's beautiful Third Symphony.
Movie lovers will not want to miss SSO Pops: E.T. the Extra-Terrestrial – Film with Live Orchestra on 26 and 27 January. A beloved classic from 1982, E.T is a moving tale of friendship, courage and gratitude that has captivated viewers of all ages. Watch the movie with the entire soundtrack performed live by the SSO conducted by Joshua Tan to see how young Elliot helps ET "phone home", and be uplifted by the incomparable music of John Williams.
February 2024
Mozart's celebrated comic opera, The Marriage of Figaro, capers onto stage on 3 and 4 February. Led by guest violinist Wang Xiaoming, First Concertmaster of Zurich Opera House, VCHpresents Chamber: Figaro in a Pocket will showcase a miniature version of one of the most popular operatic masterpieces on stage.
Sprinkle a dash of musical bliss on your Sunday afternoon with VCHpresents Chamber: Sunday Afternoon Fancies on 25 February, presenting a programme of English choral and string delights. From the divine harmonies of Tavener to Shakespearean songs with a touch of jazz, the heartfelt nostalgia of Vaughan Williams to the whimsical gems of Rutter, this performance featuring the Singapore Symphony Youth Choir, led by Choirmaster Wong Lai Foon, and musicians of the SSO is set to make your spirit sing all day with joy. 
March 2024
Conductor Laureate of the SSO, Lan Shui returns on 1 March for Lan Shui and Bomsori. While he was SSO's Music Director from 1997 to 2019, Mahler's monumental symphonies have been a signature of his programmes, and now audiences can look forward to this rendition of the First Symphony under his baton. Korean superstar violinist Bomsori Kim – who was the SSO's first international guest soloist, back in April 2021, during Singapore's post-lockdown recovery from the pandemic – makes a welcome and well-deserved return to audiences here in 2024. She will present the panoramic splendour of Nielsen's Violin Concerto.
A handful of free concerts will be available island-wide this month, starting with SSO Lunchtime Concert on 6 March, SSO In Your Community on 8 March, and Temasek Foundation SSO Music In The Meadow at Gardens by the Bay on 9 March – all led by Associate Conductor Rodolfo Barráez.
On 14 March, VCHpresents Chamber: Smetana, Mozart and Barber will celebrate the 200th birth anniversary of Smetana, touted as the father of Czech music. Witness the rich evolution of the string quartet from the 18th to the 19th centuries in this programme, performed by musicians of the SSO.
A great way to introduce classical music to the little ones is to make it engaging and relatable. If you're hoping to get your kids interested in classical music, take them to Concerts for Children: Sleepover At The Museum on 16 March. Based on the book by composer and author Karen LeFrak, ardent champion of musical and literary education for children, this concert for children is an adventure-filled introduction to classical music.
On 23 March, The Hungarian Connection – Brahms Piano Concerto 1 will feature Budapest-born pianist, Dénes Várjon and his Hungarian compatriot conductor Gábor Káli, as they come together to present Brahms Piano Concerto No. 1, a masterpiece of symphonic proportions, at the Esplanade Concert Hall. The programme will also spotlight Huang Ruo's Tipping Point and Bartók's well-known Concerto For Orchestra.*
Taking place on 23 March at the Victoria Concert Hall, VCHpresents Organ: Creation Dance – Richard Brasier will shine the spotlight on the British master organist. Witness his versatility and finesse in this recital of familiar names including Bach, Franck, Mozart and Liszt, as well as titles by contemporary composers like Neil Cox's coruscating Creation Dance.
On 29 and 30 March, John Williams – Essay and Flute Concerto will mark the Asian premiere of John Williams' Essay for Strings and Flute Concerto, with the latter performed by SSO Principal Flute and Stephen Riady Chair Jin Ta. Led by German conductor Gabriel Venzago, the blistering energy of Beethoven's Symphony No. 2 makes an exciting contrast in the second half of the programme.
April 2024
On 6 April, SSO Gala: Olga Peretyatko – A Night at the Opera will see soprano Olga Peretyatko dazzle and enchant audiences with her voice as she performs some of the most cherished opera arias from the French and Italian repertory with the SSO conducted by maestro Mikhail Agrest.
On 12 and 13 April, Kreisler, Stravinsky and Mozart will showcase the many quaint facets of Europe, from Italian Baroque to French Ballet and Viennese ingenuity. Audiences will also get to hear the rarely performed Violin Concerto by Fritz Kreisler, Stravinsky's comedic ballet inspired by Italian legend and Mozart's lively Prague Symphony. Join* Danish violinist-conductor Nikolaj Szeps-Znaider for an evening of brilliant music as he leads the SSO in this light-hearted, charming programme.
On 20 April, the SSO family will come together for Brahms Requiem and Schumann Cello Concerto, led by Music Director Hans Graf. Witness the two composers' heartfelt music come to life in this soul-searching programme featuring Singapore-based Australian cellist Li-Wei Qin in Schumann's Cello Concerto and the Singapore Symphony Chorus, Singapore Symphony Youth Choir, Singapore National Youth Orchestra, Swedish soprano Susanna Andersson and Danish baritone Bo Skovhus in Brahms's Requiem.
On 27 April, Ravel's Spain promises an evening filled with great music, wry humour and unrivalled entertainment. Ravel's one-act comédie musicale The Spanish Hour will be semi-staged with Singaporean mezzo-soprano Jade Tan in the leading role, while Danish baritone Bo Skovhus serenades his perfect lady in the enchanting songs of Don Quichotte à Dulcinée. Conducted by Music Director Hans Graf, the performance will also showcase the orchestra in Ravel's full sonic canvas, from the evocative Rapsodie espagnole to the electrifying, utterly unforgettable Boléro.
May 2024
From Tchaikovsky's tremendous Fifth Symphony to Prokofiev's Violin Concerto No. 2, Tchaikovsky and Prokofiev – Hans Graf and Benjamin Schmid on 2 and 3 May will transport audiences to new heights of musical joy. Led by Music Director Hans Graf, the performance will be headlined by critically acclaimed violinist Benjamin Schmid.
The celebration of Smetana's 200th birth anniversary continues in VCHpresents Chamber: Smetana and Dvořák on 5 May, showcasing his well-known Piano Trio in G minor, an elegiac work that ultimately finds joyous courage at the end. Smetana's famous contemporary, Dvořák shares the limelight with his attractive bass-augmented String Quintet No. 2, performed by musicians of the SSO.
On 12 May, surprise the mothers and grandmothers in your life by taking them to the SSO Mother's Day Concert, led by Associate Conductor Rodolfo Barráez, which promises a delightful evening at the Singapore Botanic Gardens.
Fans of the much-lauded Pavel Haas Quartet will have the rare opportunity of watching them live in action as they will be in town for VCHpresents Chamber: The Pavel Haas Quartet on 19 May. Winner of six Gramophone Awards, the quartet, named after the Czech composer Pavel Haas, is famously known for championing the music of their homeland.
VCHpresents Chamber: Poetry of the Harp – Xavier de Maistre on 22 May is sure to have audiences' breath blown away as the acclaimed French harpist performs in a full solo recital of harp music, including his own transcriptions of famous works by Debussy, Fauré, Falla and more.
Xavier de Maistre will take to the stage again for a concerto with the SSO in Virtuose de la harp – Xavier de Maistre on 25 May, where he will showcase the scintillating beauty and spellbinding modernity of Ginastera's Harp Concerto. The programme will also feature Respighi's shimmering tributes to ancient Rome, with the SSO conducted by French maestro Pierre Bleuse.
June 2024
The 2023/2024 season draws to a resounding close with two concerts this month, starting with Emperor Concerto and Symphonie Fantastique on 1 June, featuring French maestro Pierre Bleuse and English pianist Paul Lewis, showcasing masterpieces by Beethoven and Berlioz, as well as a newly commissioned piece by award-winning Singaporean composer Koh Cheng Jin.
To wrap up the season, a special programme has been planned for VCHpresents Organ: The Crow and the Dove on 15 June, featuring Margaret Chen, doyen of the Singapore organ scene, who will be the narrator for this performance. Organist Phoon Yu will also be performing alongside a fusion of ballet and Filipino folk dance in this tale of fidelity adapted by Singapore Symphony Chorus Choral Director Eudenice Palaruan.  
Latest News
Latest News
Latest News
Latest News
Latest News
Latest News